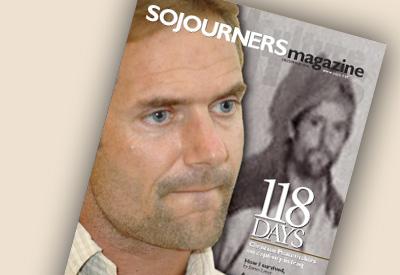 On Nov. 26, 2005, four members of the Christian Peacemaker Teams in Iraq—Tom Fox, James Loney, Norman Kember, and Harmeet Singh Sooden—were taken captive at gunpoint near the Umm al-Qura mosque in Baghdad by men who later identified themselves as the Swords of Righteousness Brigade. Through videos and statements sent to the Arabic-language television network al-Jazeera, the captors threatened to kill the four men unless the Iraqi government freed its prisoners and U.S. and British forces left Iraq.
On March 9, 2006, Tom Fox was killed and his body dumped in a residential neighborhood in western Baghdad. He died from gunshot wounds to his head and chest. After 118 days in captivity, Loney, Kember, and Sooden were released March 23, 2006, when intelligence gathered by British forces led to a raid on the house where the men were held. The captors had left before the soldiers arrived. No one was harmed in the extraction.
During the four months that the CPT members were held, a worldwide coalition of supporters emerged—including Palestinian children, Iraqi peace activists, and Islamic political leaders. After their release, Christian Peacemaker Teams, in consultation with Iraqi partners, decided to transfer their operation to northern Iraq. CPT—which is a program of the historic peace churches in the U.S. and Canada, including Brethren, Quaker, and Mennonite churches—currently has 190 members working on projects in Iraq, Colombia, Palestine, Canada, the Democratic Republic of Congo, and along the U.S.-Mexico border, training people of faith in the principles and practice of nonviolence to enter conflict zones and promote peace.—The Editors
We were taken one by one...an abductor at each arm, into a living room and pushed onto a couch.
First Tom Fox, 55, American, full-time Christian Peacemaker Teams member and veteran of 14 months of project work in Iraq. Then Harmeet Singh Sooden, 33, a Canadian citizen living in New Zealand and a short-term CPT delegate. Then me, 41, Canadian, CPT Canada program coordinator and delegation leader. Finally, Norman Kember, 72, British, retired professor of physics and another short-termer.
The Quran was being sung from a 24-hour religious channel, illustrated with a slideshow of flowing water, green landscapes, blue sky, clouds. On the wall was a picture of a man with puppy-dog eyes, long hair, and beard, fingers pointing to a heart exposed through flowing robes. I grimaced. Being kidnapped, searched, relieved of our passports, handcuffed, and blindfolded—all under the provident eye of the Sacred Heart and the prayersong of the Quran—was surreal.
But the guns, the dog barking viciously in a room somewhere, the Iraqi man carried past our door and out of the house, his screams of terror muted by a gag—they were all horribly and irrevocably real. A 1,000-pound question mark dangled over our heads. Would we be killed, tortured, released tomorrow, held for years, or disappeared forever?
hat first day, I turned instinctively, blindly, to prayer. I used my fingers to pray the rosary. I prayed the Jesus Prayer, over and over, until it breathed autonomously in me. I thought of each person I knew, held them in light, gave thanks to God for their lives. I prayed especially for those who would carry the burden of our captivity: our families and loved ones, the other CPT members in Baghdad, and the staff in the Chicago and Toronto offices.
I made up long litanies to the Sacred Heart of Jesus: "O most holy Sacred Heart" along with "Deliver me … Free me … Protect me." I didn't know God's will. I didn't know what I might be asked to give. I feared that I was too weak, too selfish to offer it.
As our captivity progressed, the acute, heart-pounding terror of those first days gradually phased into a chronic white noise. Boredom became the great enemy. I was lost in a universe of greywash, grey that invaded, infected, and debilitated every pore of my being.
Tom Fox became the prophet of the present moment. "All we have is the now," he would say. "The past is a fiction and the future doesn't exist." He would tell us about his meditations, how, as he passed through his fingers the chain that bound his wrists, he would receive and send God's light with the count of each breath. He strained with his whole being to let go of everything—even the hope of release—and just be present to the present.
An initial feeling of challenge and inspiration gave way to theological irritation. That's fine for ordinary times, I thought, but not when the present moment is a living, ineradicable hell. I became self-absorbed, irritated with everything: Harmeet's wiggling toes, Norman's burps, the way Tom chewed his food, the hours of feckless small talk.
I didn't dare tell them. Each day, each hour, each minute I was confronted with a choice: Withdraw, clench my heart into a fist, and conserve my widow's mite of emotional energy or open my heart, inhabit the moment, be generous with acceptance and conversation and listening.
Sometimes, the misery of captivity would dissolve into sharing about our lives: games of Wheel of Fortune, riddles, discussions about bad movies or strategies for unlearning racism, heated Quaker, Baptist, and Catholic Bible exegesis. I imagined that our daily task was to build a Palace of the Present Moment, a refuge from our 11-foot square, paint-peeling room of never-ending gloom.
This, I began to see, is what it means to be born again. The present moment was the birth canal of incarnation.
FROM EARLY ON the prospect of release was held before us. First our captors said we would be freed in a few days, as a propaganda statement "to show the world we are not like al Qaeda." Then it was to be before the Iraqi elections in mid-December. When those came and went, they said it would be another week. Just in time for Christmas, we thought, a public relations coup for the insurgency. We began to entertain fantasies about a Christmas reunion with our families.
As the day approached, Norman was the first to shift his focus to getting us through a Christmas in handcuffs and chains. I was the last to give up that hope, and staved off despair by recounting Dr. Seuss' How the Grinch Stole Christmas.
Norman led us through a Christmas Eve service, and with the help of his prodigious memory we sang 36 Christmas carols. Tom told Luke's Christmas story from memory. I gulped down tears at the words, "Do not be afraid. I bring you good news of great joy for all the people … Glory to God in the highest and on earth peace."
The next day, we told ourselves, was just another day. We tried not to think about our families laboring through Christmas without us. Dinner consisted of pita bread stuffed with white rice. That night we were visited by the ringleader whom we called "Medicine Man" because he brought Norman's blood pressure medicine on day two of our captivity. He dropped a pile of clothes on a chair: track pants, socks, underwear, an undershirt, and sweater for each of us. I was delighted. The nights were growing cold. After 30 days in captivity we were no longer quite so fresh. Medicine Man told us that negotiations for our ransom were under way; that we would be released in five days. He pointed to us and held his nose. "Tomorrow you will take some shower," he said. When he left, I said, "Do you guys mind if I take one of those sweaters now? I'm cold." Of course, they said. The one on top happened to be the one I liked best.
As promised, we had our first bath in 31 days. Standing in a grime-bottomed bathtub, I poured basin after basin of kerosene-heated water over my naked body, every cell of it thrilling with pleasure.
While getting dressed I noticed that the pull-tab on the new sweater's zipper was shaped like a heart. I wondered if it was a woman's sweater and examined it carefully. The tag said it was for men. But a heart-shaped pull-tab? I looked again at the piece of polished metal, open in the center. An open heart. The Sacred Heart. Tears filled my eyes.
On December 28, our captors brought us a Christmas cake decorated with thick white icing, green palm trees, and indecipherable pink writing. They sang "Happy Birthday to You" in honor of Jesus' birth, and we sang "Silent Night." The captor we nicknamed "Uncle" cut and distributed the cake with a piece of cardboard. Then, laughing merrily, he scooped up a big fistful and shoveled it into his mouth.
The next day, the captor we called "Junior" declared he was going on a suicide mission. He mimed driving a car full of explosives up to an American Humvee, and BOOM! Pointing first to himself and then skyward, eyes rolling piously, he said, "Jenna [heaven]. With my mother, my father, my fiancé." They, along with his best friend and one of his sisters, were killed when the U.S. bombed his house in Fallujah. Then, pointing to the earth and spitting, he said, "America."
I once asked him what he would be doing if the U.S. hadn't invaded his country. "Helping my father in the market," he shrugged. Junior was 25 years old with a grade six education.
His intention to use his young body as a weapon disturbed me profoundly. I racked my brain for some way to break through his bomb-proof, God-blessed, necrophiliac logic. I wanted him to know, right in his body, how good, how beautiful he was, how much God loved him.
On New Year's Eve, while Junior supervised our morning exercise and bathroom routine, I brought him a chair, pointed to it, then pointed to his shoulders and mimed massaging them. He often complained of neck and shoulder pain. He took the chair, eyes wide with surprise.
My thumbs and fingers searched through the network of knotted muscle and spasms that had colonized his back. I could feel him melting into the chair. Something told me he had never been touched this way.
IT WAS DAY 117. We were unhandcuffed and rotating through the bathroom in preparation for bed, Harmeet, Norman, and me. Tom had been separated from us on Feb. 12, 2006—39 days before. Though we feared the worst, we lived with and accepted our suspicions just as we did our handcuffs, our chains, the ongoing theft of our lives.
Junior held out his right forearm and pleaded, "Come on, Jim. Massage. Massage." I was sitting on top of our communal bed and Junior sat cross-legged in front of me. Despite my reluctance, I complied. It's hard to say no to a captor. As I kneaded his forearm, he released a torrent of woes: no mother, no father, no house, no marriage, no children, no job, no money to fix the clutch on his car. He explained in body language that the pain in his arms was from his day job, using a high-powered rifle to shoot American soldiers. He seemed on the brink of despair.
"What do they say in Canada about suicide? Is it okay or not?" Junior asked me. "It is haram [forbidden]," I answered, "by Esau [Jesus]."
"Good," he said, "just like Islam." He looked at me, pointing his finger solemnly at his own chest, and said, "I no suicide. Suicide no good—haram. I [get] married. I [become] father."
Junior locked us up, turned off the light, and left the room. That was my last encounter with him. The next morning Britain's Taskforce Black busted us out. Junior and a second captor fled before their arrival. Just as we were kidnapped, so were we freed, in the time it takes a general to snap his fingers.
IT HAS BEEN a year since our abduction. I often wonder what's become of Junior and the others, what trajectories their lives have taken. Our lives have followed the trajectory of return to ordinary time, but I suspect none of us are quite the same. I know I'm not, though how I can't really describe. It's an ontological imprint left by Tom (dear Tom!), Harmeet, and Norman; our captors; our 118-day sojourn through the black hole of captivity; the paradox of being freed (and incredible gratitude for being freed) by the arms of the very soldiers we would disarm.
This, I think, is what I've learned, though I make no claims about successfully living it: We are born to be born, again and again, every day in every moment in every decision, big or small, regardless of where we are or what is happening to us.
We were given birth to give birth, and every body is holy. The hardest birth of all is dying. The labor pains will seize us; we have no control over the time or place. Our job is to allow God to breathe us through, together, in the mystery of incarnation.
And peace—the birthright, the manger and swaddling clothes of every human being, announced by angel voices that say "Do not be afraid!"—I have come to cherish as the dearest and most essential of all things, even more (I say with fear and trembling) than life itself. The gun, the bomb, the military-industrial office chair, the words that carpet-bomb the garden God gave us to share: These are anti-Christ indeed, as anti-incarnational as Junior's immolate despair.
When this article appeared, James Loney had been a member of Christian Peacemaker Teams since 2000. He had served on CPT projects in Iraq, Palestine, Kenora and Asubpeeschoseewagong, Ontario, and Esgeenopetitj, New Brunswick. He lived in Ontario and worked as CPT's Canada program coordinator.