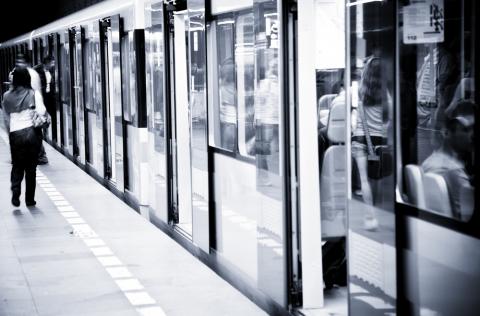 THE METRO IS crowded today, and the 20-something, well-dressed white man has to stand, one hand holding the bar and the other his smartphone. It's the end of the day. All the commuters—but one—are turned toward home. The young man's face, like most of the others, is dulled with exhaustion. No one makes eye contact.
In a seat near the door, one woman sits facing everyone, looking backward. She studies the young man's face intently, uncomfortably. He shifts. She rearranges the bags at her feet. Her reflection in the window shows an ashy neck above her oversized T-shirt collar. The train hums and clicks through a tunnel. As if in preparation, she takes another sip from the beat-up plastic cup she's holding.
At last, she raises her voice and asks: "Why are white people so mean?" Boom! The electricity of America's third rail crackles through the train. Faces fold in like origami or turn blank like a screensaver.
But this was no rhetorical question. When no one answers, she asks again, this time aiming her question at the young man with his phone. A flush creeps up his neck. "You look like you could be a sheriff," she says to him. "Good and mean. I can see it in your eyes. You got mean eyes." When he realizes her attention is stuck on him, he replies, "I hope I'm not mean. I try to be good."
An older man leans in to shhhsh her. "Sister, don't talk like that here," as if this was a topic only for the back porches in certain neighborhoods. Everyone was watching—and not watching—America's racial history play out wildly and uncontrolled, like there was a snake loose on the train.
In the manner of the psalmists, Jeremiah, and Job, this prophetic woman had put forward her lament and accusation into the public square. Laments pierce social and religious facades to expose a fundamental injustice. They engage, as Walter Brueggemann puts it, "the most unbearable questions of faith."
For her to ask her question in Washington, D.C., as the old folks say, is "more than a notion." It gets at the "unbearable questions" that must be engaged if this democracy is to be more than a pretense.
What do we know about the social location of her question? She asks it in a city in which the White House and the Capitol were built 220 years ago by chattel slaves "borrowed" from plantations in Virginia. Less than 80 years ago, 23-year-old George Armwood was tortured, mutilated, and lynched in Maryland for supposedly assaulting a white woman. Three years ago, a member of the Congressional Black Caucus was called the "n" word and another was spat upon by a white health-care protester. This woman's question is freighted with history. And—historically speaking—she's right, white people are mean. The question of why we are is much more complex.
Traditional laments, according to Brueggemann, engage three parties: the speaker, God, and the adversary. In this equation, we, white Americans, are the adversary. White Americans have constructed and maintain a moral universe where we are normative and good. We are fully oriented—like fish in water—toward the economic and social benefits of white supremacy. It requires a prophet's lament to disorient us. What we do with our disorientation is an essential question of faith for white American Christians.
At the next Metro station, passengers scatter, including the young man. I take up the question, not wanting the moment of truth lost. "Why do you think we are so mean?" She lays out the unvarnished story of her day: living on the street, hungry, exhausted from not sleeping, no one will look her in the eye even when she greets them. This morning, she tells me, a white policeman wouldn't quit bothering her. She had a yogurt spoon in her pocket. "He thinks I use it for drugs! He keeps saying he's gonna drag me to jail." I ask if he was right. She rolls her eyes at me, as if to say I prove her point. "I just use it for my lunch. I don't want any of that other stuff. It makes me feel bad when he talks to me like that."
Another station approaches. I get ready to exit. With a whoosh the doors slide apart. A different white man has been observing the unfolding drama from the very beginning. As he walks past her, he turns. "You shouldn't drink in public," he says. "You might say something you'll regret."

Rose Marie Berger is a Catholic peace activist and a Sojourners associate editor.
Image: Passengers entering the metro, Jose AS Reyes / Shutterstock.com