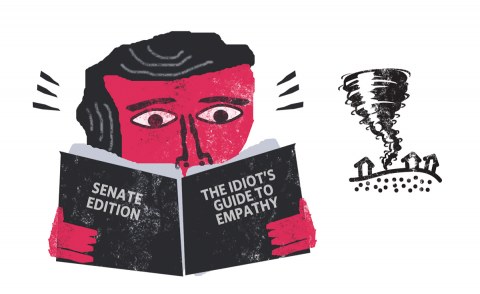 NOTHING MOVES ME more than a heartfelt tweet. Seriously. Don't think I'm making fun here. I understand that the Twitter universe ("Twitterverse"? "World o' Twits"?) is the current preferred method for connecting with the most people in the shortest amount of time. It's certainly preferable to my generation's method of communicating, which was to spray-paint the sides of barns.
But if the inspirational tweet is from a member of Congress—taking time away from doing the nation's business in the most powerful city in the world, depending on where the Koch brothers are living at the time—I can get really choked up.
"My thoughts and prayers are with those in Oklahoma affected by the tragic tornado outbreak."
Oozing with empathy and originality, this tweet was sent out by Oklahoma Sen. Tom Coburn a few hours after the extreme weather event in May that ravaged the town of Moore. What the tweet did not include—and his office quickly added, lest survivors searching through the rubble for loved ones got the wrong impression—was that the senator would not support federal relief funding unless it was offset elsewhere. If it's not in the budget, according to Coburn's long-standing philosophy, it's not happening.
But let's be fair: With a tweet you only get 140 characters, so in addition to the words "thoughts" and "prayers," there's barely enough room left over to express the important concepts of "freedom," "liberty," and "bootstraps," three concepts people just love to think about when they're crawling from under what used to be their house. Coburn's point seems to be that when you're covered with sheetrock, torn family photographs, and spray-painted sides of barns, the last thing you want is some government bureaucrat arriving with a meddlesome helping hand.
That's not to say the senator wouldn't buy a dozen cookies at a bake sale for the victims. Heck, put him down for two dozen. (I'm guessing lemon is his favorite flavor. He likes the sour.)
IF SEN. COBURN was less compassionate than one would hope, at least Oklahoma's other Republican senator can be counted on for help, as his own tweet clearly shows:
"The devastation in Oklahoma is heartbreaking. Please join me and #PrayforOklahoma. Spread the word.
And with a hashtag, no less! It's like he was right there, suffering the collapse of buildings torn open by 200 mph winds instead of in his office in Washington, D.C., signing copies of his book, The Greatest Hoax: How the Global Warming Conspiracy Threatens Your Future, a timely work in which residents of Moore will no doubt find great comfort. Their unfortunate mishap was simply an act of God, the senator would insist, a once-in-a-lifetime event that had nothing to do with climate change and probably won't happen again for another hundred years. Or maybe next Tuesday.
And speaking of disasters, Liberty University recently offered a scholarship to North Carolina high school senior David "Cole" Withrow, who was charged with a misdemeanor after he drove to school with two shotguns in his truck. This being an obvious sign of the young man's biblical bona fides—driving the gun registrationists from the temple is one of Jesus' lesser-known acts—it naturally caught the attention of Liberty president Jerry Falwell Jr., who presides over the largest Christian university in the world. Liberty is also one of 25 U.S. colleges that allow students to bring firearms to class. And not just for show-and-tell. (Although a Glock would be WAY more interesting than European history.) Of course, students must first obtain a permit from the state of Virginia, a demanding process which requires the applicant—under the close scrutiny of state officials—to produce a driver's license.
Liberty University founder Jerry Falwell is probably smiling down from heaven right now, because he knows the only thing that stops a bad man with a gun is a good man who knows the Lord Jesus Christ as his personal savior. With a gun.

Ed Spivey Jr. is art director of Sojourners.