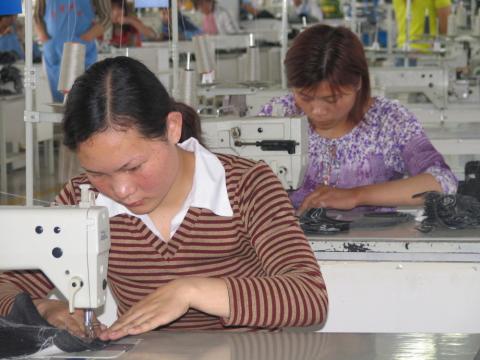 THE APRIL 24 collapse of a garment factory near Dhaka, Bangladesh, killed more than 1,125 people. That tragedy followed a fire that killed 112 last November at a factory making goods for companies including Walmart. According to the International Labor Rights Forum, at least 1,800 garment workers in Bangladesh have died in fires or other factory disasters since 2005. The collapse near Dhaka is the largest disaster in that time and the one that has gotten global attention.
As a Dominican Catholic sister and member of Catholic Scholars for Worker Justice, I approach reflection on such a disaster from the foundation of Catholic social teaching. Each of the social principles below relates to the situation in Bangladesh and challenges us to reflect on our own regard for those who provide our clothing.
Life and dignity of the human person. Story after story of the people who work in the garment industry shows the lack of respect for workers. Long hours, few to no breaks, prevalent verbal, physical, and sexual abuse, and now the collapse of a factory—do we need any more proof that human life is held in so little regard? Many years ago, Cardinal Joseph Bernardin called for an understanding of "respect life" as inclusive of human life "from womb to tomb." Our upholding of life must include working toward changing factory conditions so that a debacle such as Dhaka never happens again.

Call to family, community, and participation. According to the Bangladesh Garment Manufacturers and Exporters Association, 85 percent of garment workers in Bangladesh are women. Why do they stay with such inhumane and dangerous working conditions? Salaries of garment workers often support large extended families. The women who have taken on such responsibilities are deserving of our admiration for their commitment to the survival of their families. However, not only are they not welcome to participate in decisions affecting factory conditions, but doing so can threaten their jobs.

Rights and responsibilities. This principle is particularly challenging to those of us who are consumers of goods manufactured in the Third World. All people have the right to life and the right to safety on the job, and our responsibility—as governments, owners, and consumers—is to support that.

Option for the poor and vulnerable. This preferential option for those who are poor and vulnerable calls first for awareness. From whom do we purchase our clothes? Who makes them? How are workers treated?

The dignity of work and the rights of workers. It is obvious in accounts of the disaster in Bangladesh that the dignity of the workers was not upheld. The right of free association in unions is discouraged in the strongest ways. The collapse, the many injuries at work, and workplace fires around the global South indicate how little the safety of workers is regarded.

Care of God's creation. Human mistreatment of the environment is morally bankrupt. The people who work in the garment industry are often there because they can no longer sustainably work the land. Our reliance on agribusiness with its consequent contribution to climate change is only one indication of our lack of sustainability.

Solidarity. Solidarity with garment workers in the global South, and their solidarity with one another, challenges us all to creativity and imagination to produce concrete actions of support. Corporate actions such as boycotts of certain stores or products, stockholder resolutions for policy changes, legislative efforts in support of worker rights, and other actions that have yet to be imagined can make real differences in real peoples' lives.
The social teaching of our churches challenges us to conversion to a way of life where consumerism is not our ruling value. The disaster in Bangladesh is just one indication that we are a long way from a society in which we value both individual flourishing and the common good.
Mary Priniski, OP, is a member of the Dominican Sisters of Adrian and serves on the executive committee of Catholic Scholars for Worker Justice. She has been involved with worker rights issues for more than 30 years.
Image: Chinese garment factory, Luisa Fernanda Gonzalez / Shutterstock.com