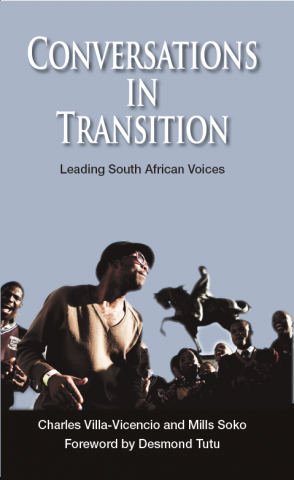 Conversations in Transition is a veritable graduate course in what South Africans call ubuntu, or good neighborliness.
Charles Villa-Vicencio and Mills Soko present 23 narratives of both well-known and unsung heroes of the anti-apartheid struggle. These narratives are filled with instructive words of wisdom for seekers of peace with justice in countries emerging from post-tyranny chaos and in long-established democracies alike. Historians and activists will find hope in the stories of South Africa's courageous, diverse citizens, as well as prophetic insights and warnings as the subjects address post-apartheid violence and oppression in a country still on the edge.
My own experiences lead me to an unqualified endorsement of this invaluable compendium. Over several decades I have pondered repeatedly two particular conversations, one with a Jew in Israel and the other with a Muslim from Cape Town.
An effort was made to introduce the Truth and Reconciliation Commission (TRC) process into the Israel-Palestine conflict. At the end of an evening with South African officials and members of the Israeli and Palestinian communities, the director of a Jewish study center in West Jerusalem, Benjamin Pogrund, shared a revealing comment. He said, "TRC will never work here because Israelis do not have the theological and philosophical understanding of forgiveness and reconciliation that Muslims, Christians, and Jews shared in South Africa in order to bring unity and liberation without major conflict."
The second encounter was with Rashied Omar, then an imam of a major Cape Town mosque, now a Notre Dame professor. While he was on a visit to the Geneva-based World Council of Churches, I asked him why he spent so much time with Christians when so many Christians show little understanding and even abuse Muslims. He responded, "That is a joy to answer. We have marched and worked together [in South Africa] for the end of apartheid. We have been shot, arrested, imprisoned together, and we have read each other's holy books and prayed with one another. You can preach in my mosque any time you wish. You will always be welcome."
Omar gave witness to ubuntu in his context; Pogrund acknowledged the absence of it in his. Reading Conversations about contributors to the South African "miracle" from various tribes, languages, religions, and cultures, I better understand the force of the testimonies by Pogrund and Omar.
As one deeply invested in both South Africa and in the Middle East for 35 years, I have awaited this book in both the general sense for guidance and specifically to receive the backstory of the successful transition from the tyranny of oppression to democracy without chaos. It provides one more reason for hope that it can happen again anywhere with the right leadership and an open, caring populace.
As anti-poverty and social activist Mary Burton asserts, humanity's survival "requires the promotion of a sense of interconnectedness and empathetic identification with others."
The present Anglican archbishop of Cape Town, Thabo Makgoba, warns in his chapter, regarding South Africa and all democracies, "If we fail to deal with the higher dimensions of existence, we are in danger of losing the battle against corruption, bad service delivery, and social inequality."
Conversations in Transition boldly asserts that for the common good, all of us, citizens and rulers alike, must resolve to free ourselves from the shackles of the past and be held accountable to the higher demands of God. The choice we face is a spiritual one. The liberation from oppressive tyranny in society is one step, but emancipation of the spirit requires continuous renewal out of respect for and accommodation of differences rooted in a well-honed moral core.
I encourage activists to make this valuable resource part of your toolkit. It is likely to become an important reference for builders of civil society in this challenging period of history. Its well-ordered index, South African chronology, and glossary are in themselves invaluable for research.

Tom Getman, a Sojourners board member, served with World Vision for 25 years, including five years as national director in Jerusalem. Conversations in Transition is not in print in the U.S. but is available online.