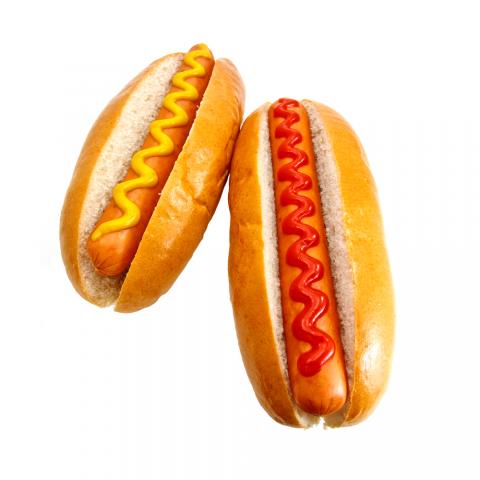 WHEN I WAS growing up in the western suburbs of Chicago, I felt so far outside of the inner circle of cool kids that I didn't even know where the circle was. So you can imagine my delight when I got an invitation to David's birthday party. David was in the outer part of the inner circle, which meant I was heading in the right direction.
A couple days before the party, my mom took a closer look at the invitation and noticed that it said David's parents would be making hot dogs for lunch. As she wasn't sure whether the hot dogs were pork or beef, and as we were Muslims who don't eat pork, she informed me that she'd be giving me all-beef franks to take from home with a note to David's mom asking her to fry them up in a separate pan.
Of course, this horrified me, the kind of horror that only a kid caught up in the jungle of grade school coolness competition can feel. I remember standing in the living room, staring at my mom, and thinking to myself: "First, you named me Eboo."
The day of the party rolled around and, dutiful Indian-Muslim child that I was, I accepted the little plastic baggie with two beef hot dogs that my mom handed me, allowed her to put me in nice slacks and a collared shirt, and went off to the party. When lunchtime came, I snuck into the kitchen to make my request of David's parents. Imagine my surprise when I noticed another kid in the kitchen. He wore a collared shirt and nice slacks and also held a plastic baggie with two hot dogs.
"Who are you?" I asked.
"My name is Chaim," he said. "My mom sent me with my own hot dogs."
I was like, "You and me, we are going to be friends."
Chaim was the first Jew I ever met.
Think for a moment on the hopeful possibilities illustrated in this simple story from a suburban childhood. We are barraged with the opposite; we relentlessly hear stories in which Jews and Muslims are saying, "You are my enemy." What was it about that encounter that made Chaim and me friends? How can we multiply that a million-fold?
I spend a lot of time thinking about these questions in my role as founder and president of Interfaith Youth Core. The mission of the organization is to make respect, positive relationships, and active cooperation between people from different religions a social norm. I am increasingly convinced that has everything to do with the nature of the spaces in which people encounter one another, and whether those spaces bring out people's divisions or their commonalities.
If you are thinking to yourself, "We should get more Christians to invite Jews and Muslims to their birthday parties and make them bring their own hot dogs," I'm all for it. But it's only one way to accomplish a deeper principle: How do we carve out spaces where people from different backgrounds feel that they have something deep and profound in common, that they have a stake in each other's success? Something visceral, like two outcast kids at a birthday party sent by their moms with their own hot dogs. Something sacred, like a world in which people who are different seek friendship, not domination.

Eboo Patel, founder of the Interfaith Youth Core, writes about social justice from his perspective as a Muslim American of Indian heritage.
Image: Hot dogs, stocksolutions / Shutterstock.com