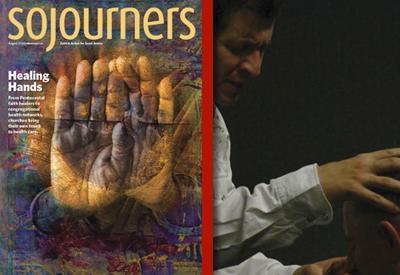 JASON COOPER LOOKS out at the audience gathered in Restoration Church and asks, "Is it God's will to heal?"
The former art school classroom, where the Pentecostal Dover, N.H., congregation meets, is nearly full, even though it is a Thursday evening in April. In addition to the 70 or so regular members who have come to hear Cooper preach, there are nearly a dozen visitors. One woman leans heavily on a cane. Another can't turn her head from side to side and needs neck surgery.
They are casualties of slow research and expensive health care. According to the Kaiser Family Foundation, a nonprofit health-care policy think tank, health expenditures have increased 10-fold in the past 30 years. Though some health- care increases can be attributed to longer life spans, the high costs of drugs, hospital stays, and doctor visits have been compounded in the wake of the recession.
A young woman tensely watches Cooper as if he might explode at any minute. No one knows exactly what he will do. The audience fidgets in response to his question. Cooper, with his soul patch, slick black haircut, white button-down shirt, and stone-washed jeans, looks a little like a Vegas magician.
But Cooper is a traveling faith healer.
Restoration Church is a member of the Assemblies of God, a Pentecostal denomination that believes faith healing is one of the gifts of the Holy Spirit available to all Christians. It is a modern church of about 170 members, with a worship team that includes electric guitar players, a bassist, and a drummer. Its logo, a stenciled yellow "R" on a black background, is as trendy as an Apple icon.
Restoration embraces a tradition of faith healing that goes back to the time of Christ. As recounted in the gospels, Jesus healed many people in various ways. In Matthew, a woman "who had suffered from severe bleeding for 12 years" (9:20) touches his cloak. Jesus tells her, "Courage, my daughter! Your faith has made you well" (9:22), and she is healed. In John 9:6-7, Jesus spat on the ground, made mud with saliva, and spread the mud on the man's eyes to cure him of blindness. In Luke 8:49-56, he raises the daughter of a man named Jairus from the dead.
Faith healing is a confusing phenomenon to many, including members of churches that practice it. The Bible does not paint a clear portrait of how it works. The only commonality among most biblical accounts of divine healing is Jesus, and even his role is unclear. Does healing require touching Jesus or something that belonged to him? Does it require asking him for healing?
Churches across America offer different answers to these questions. For example, many Catholics believe that touching a holy relic or visiting a saint's grave can bring healing, whereas mainstream Protestant churches assert that healing is possible through prayer and faith. Evangelical and Pentecostal churches differ in what they believe about healing, but many, including Restoration, affirm that divine healing is possible by using the power of Jesus or the Holy Spirit. A few, such as the Assemblies of God and Vineyard Churches, include divine healing as part of their doctrine.
After Cooper finishes preaching, he stands in front of the stage where the worship team plays and looks out at the crowd. In a peaceful tone, he says, "Now let's just watch God do what he does." The visitors walk or hobble forward and stand in front of the stage, waiting eagerly for Cooper to pray over them.
DESPITE ITS centrality to early Christianity, faith healing didn't appear on the U.S. national stage until the 20th century. Folk healers practiced all over the country, but they worked locally. The Pentecostal movement changed this.
In 1901, Agnes Ozman, a member of evangelist Charles Parham's church in Topeka, Kan., became known as "the first to speak in tongues." This sparked a revival centered on the gifts of the Spirit, including faith healing. William Seymour, a black preacher, eventually studied under Parham. In 1906 Seymour traveled to Los Angeles and established the Apostolic Faith Mission in a former church on Azusa Street, beginning a three-year-long revival in the city that led to the birth of dozens of Pentecostal churches. Seymour preached what Pentecostal scholar Cecil M. Robeck Jr. describes as a "living, practical Christianity."
This is the kind of Christianity that is taught today at Restoration: alive, active, vibrant. Pastor Nate Gagne promised his church that they would see great miracles that evening.
Cooper moves down the line, laying hands, closing his eyes, and praying over each person who stands before him. The congregation seems to be holding its breath, waiting for something to happen, trying to discern if something already has.
Mainstream Protestants are generally wary of placing one person's abilities over another's. Yet the comfort that people appear to have at Restoration with faith healers and otherworldly experiences can be attributed in part to the influence of African-American folk healing. In this tradition, the faith healer is a crucial figure who orchestrates the relationships between the spiritual and physical aspects of life believed to be interconnected. Respect for faith healers may have been a forerunner of the celebrity status that faith healers and evangelists—such as Aimee Semple McPherson, Smith Wigglesworth, John G. Lake, William Branham, Kathryn Kuhlman, Oral Roberts, and Pat Robertson—achieved in the 20th century. It is similar to the respect that some people give healers such as Cooper today.
The Restoration congregation continues to follow each of Cooper's attempts at healing. The healings are not perfect, though there are moments of hope. A deaf woman suddenly seems able to hear Cooper speaking. Or is he just talking more loudly?
Some people have begun to speak in tongues; a woman sitting in the front row murmurs "shalakatai." Pastor Gagne speaks in tongues as Cooper continues to pray over members and visitors.
At last, Cooper reaches Michelle, the woman who needs neck surgery. He prays over her once.
"Better?" he asks.
"My back feels a little better, but my neck still hurts." She tries to turn it to either side. It doesn't work.
Cooper asks up two random women near the stage: Debbie, the mother of the worship team leader and Laureen, one of the oldest women in this mostly under-40 church. They walk up to pray over Michelle. At first, Cooper stands behind them to supervise. Then he walks away.
"Take authority," he says. He has told the congregation that it is not about him; he doesn't want to be a celebrity. The glory belongs to God, who can work through anyone.
"Lord, we take authority over this neck," Laureen states. "Make it the way you made it." Her tone is firm, as if she is admonishing God.
Debbie and Laureen are confident that God can step in, right now, and heal Michelle's neck.
CHURCHES THAT embraced an experience of the supernatural, such as Pentecostal sects, used to be on the fringe. Then the Christian hippies, known as Jesus People, arrived.
The Jesus People movement sprang up in California in the late 1960s from small, scattered experiments, such as a Baptist pastor and a few congregants renting a storefront in San Francisco and setting up a "Living Room" with scripture verses and psychedelic suns painted on the wall. They supplied free coffee and snacks. Thousands of hippies passed through.
Most mainstream Christians at the time believed Jesus' miracles to be limited to his lifetime and the early church, but the Jesus People insisted that Jesus was still a supernatural force. The Jesus People acted as if they were living in Jesus' time. They read the Bible together without a pastor, preached outside, and baptized in the ocean. Why couldn't they experience the miracles Jesus performed?
Soon mainstream churches began changing their old habits to appeal to this new wave of Christians. Some pastors invited rock bands into their churches and stopped preaching in suits. In When God Talks Back, anthropologist T.M. Luhrmann discusses how John Wimber, a founding leader of the Jesus People-filled Vineyard Church movement, started praying for people to be healed because he "wondered why the miracles described in the scriptures no longer took place."
The Jesus People movement peaked in the late '70s, but its influence and principles are visible in many evangelical churches today. Before the Jesus People, evangelicals didn't get tattoos, practice speaking in tongues, or preach in cargo pants. Nor did they heal people or talk about Jesus as if he were a superhero.
But Debbie and Laureen are comfortable asking God to perform neck surgery on Michelle. Debbie runs her hand up and down Michelle's spine, even though Michelle told Cooper it felt better. She taps the vertebrae and says, "Line up, line up, line up." It's as if Debbie is speaking commands to Siri on the iPhone. She expects results.
Suddenly, Michelle, whose eyes are already closed, appears to lose consciousness. Her face goes slack, and her body tips back and to the side. Pastor Gagne runs over to support her. The women praying over her don't bat an eye. They keep praying.
Issues around faith healing are even more poignant in times of national confusion about health and health care.
In Prescribing Faith,Claire Badaracco writes that people feared "the unreliability and the power of American medicine" in the 1800s. At the turn of the century, after this "era of fads and quackery," pastors began healing in church. Then, in the 1960s and '70s, people began looking outside the mainstream for solutions to many societal woes, including sickness, and divine healing was revived again. Now economic pressure appears to be forcing people to seek alternatives to mainstream health care once more.
The American Journal of Medicine reports that almost two-thirds of all bankruptcy cases were the result of illness and medical debt in 2007, up nearly 50 percent from 2001. The recession was the straw that broke the back of the straining U.S. health-care system. Without jobs, the need for an option outside of employer-provided health insurance plans became imperative. This puts members of Restoration Church in the middle of the debate in the shift from private to government-supported health care.
Nearly everyone agrees that a change needed to happen, but not everyone supports the measures taken by the Affordable Care Act, which some believe spells the rise of "big government." Pastor Gagne wishes the government could cover everyone, though he worries that taxpayers can't afford it. The cost of private insurance—a typical plan with high deductibles runs more than $1,700 per year for one person and about $400 a month for a family of four in New Hampshire—prevented many from obtaining plans in the marketplace. Pastor Gagne doesn't have health insurance for himself and his wife. His kids are covered by state plans; to pay for his family of five would be prohibitively expensive on a pastor's income.
Cooper also worries that government-run health care blurs the line between human institutions and God. If our government gets too big, he asks, how can you be sure you're worshiping the Creator and not something created? Wouldn't it be easier if you could opt out of the whole system and get healed at church?
Suddenly, Michelle opens her eyes and looks around, disoriented. The women stop praying and lean back, smiling at her, their hands still protectively on her back and shoulders. Michelle turns her head slowly from side to side and a smile spreads on her face. Her eyes grow bright and she laughs.
Cooper looks over and grins. 

Alicia de los Reyes is a freelance writer based in Seattle.