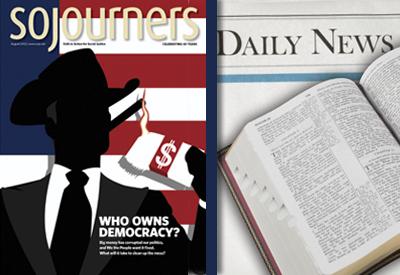 How can pastors foster change in church? Not the kind placed in offering plates, but change of another sort. Change—alteration in character, attitude, and behavior, and the priceless gift of a new, or at least better, world.
Many people are rightly agonizing over volatile financial markets and companies defaulting on their fiscal promises. There should be equal or greater concern about the balances in our moral accounts, lest insufficient funds lead to bankruptcy of our souls and foreclosure on the common good. Often when we think about mechanisms for social change, we conjure images of Washington politicians and Wall Street profits. Yet, to fix our broken world, we need more than profits. We need prophets—faithful, fearless people willing to invest in social change through prophetic proclamation in word and deed.
As Rabbi Abraham Joshua Heschel astutely suggested, prophets are more interested in knowing what they see than in seeing what they know. Do we see the tragedy of the wealthiest nation in the world failing to provide health insurance for its most vulnerable citizens? Do we see the irony of building state-of-the-art prisons while our public schools have to beg legislatures for financial support? Do we see how many lesbian, gay, bisexual, and transgender people suffer emotional and physical violence, while many churches and cultural institutions remain eerily silent about their civil rights and moral equality? The priceless change so desperately needed in our world will arise when we are less concerned about making profits and more concerned about becoming prophets.
A KEY DIMENSION of preaching for social change is a concern for morality: Preaching a life-changing word takes a preacher with a changed life. An expansive understanding of morality moves us beyond simple concern for personal piety. "Morality" is not about sermons condemning people to death and hell, but is rather a generous invitation for people to foster life and to join God's work to create heaven on earth. Recall Jesus' prayer: "Your kingdom come. Your will be done, on earth as it is in heaven."
Preaching about and for social change requires that preachers have moral credibility—not simply the vigorous attempt to live right, but also ruggedly honest admissions of when we, and the religious traditions we represent, have been wrong. Christianity has a credibility crisis in the public square. People have justifiable reasons to ignore Christian exhortations for social change, since Christianity across the decades and centuries has been unwilling to confess its faults and turn from its wicked ways (2 Chronicles 7:14). Christian preaching for social change must begin with a willingness to confess Christianity's own need to change—bending contrite knees to confess how we have misrepresented God's inclusive love, ceaseless concern for the oppressed, and fierce commitment to restorative justice.
In addition to confession, preachers who desire social change need an abundance of courage: the willingness to proceed on God's path amid deserts of fear, across oceans of opposition, and over mountains of sacrifice. When I teach seminary preaching classes, I applaud students who have silver tongues. Yet I am equally adamant about preachers having steel in their spines. Simply put, we need more preachers with backbones!
While courage should never be equated with recklessness, courage involves risk. I invite preachers to ask this question: What is the truth in this sermon for which I would be willing to sacrifice or even die? From the time he stepped into the Jordan River to be baptized by John, Jesus was a marked man. Jesus' convictions about social change eventually left lethal marks on his crucified body as a violent empire pierced his hands and feet. As "poets of the cross," our homiletic musings about social transformation should reflect our willingness to withstand the wounds associated with taking a stand with the poor, the weak, and the oppressed.
A SECOND, EQUALLY important aspect of preaching for social change is the homiletic—specific, pragmatic procedures that enrich sermons. As practical theologians, preachers do not address the abstract "human condition," but rather a specific gathering of people with all their joys, sorrows, and ambiguities.
I'll reflect, as an example, about how one can preach about one specific social problem plaguing the United States—mass incarceration. According to some estimates, more than 6 million Americans are under the supervision of the criminal justice system. In a New Yorker article earlier this year, Adam Gopnik explored the impact of race and class on the prison crisis: "For most privileged, professional people, the experience of confinement is a mere brush, encountered after a kid's arrest, say. For a great many poor people in America, particularly poor black men, prison is a destination that braids through an ordinary life, much as high school and college do for rich white ones. More than half of all black men without a high-school diploma go to prison at some time in their lives."
Undoubtedly, the prison crisis is complex. Nevertheless, the absence of positive opportunities resulting from racial and economic injustice surely contributes to the disproportionate presence of poor people of color in the prison population (and vice versa). For decades, the jobless rate of African Americans has consistently been double (or more) that of white Americans.
How might sermons responsibly approach this vexing social dilemma—using, for example, Luke 4:18-19?
The Spirit of the Lord is upon me, because he has anointed me to bring good news to the poor. He has sent me to proclaim release to the captives and recovery of sight to the blind, to let the oppressed go free, to proclaim the year of the Lord's favor.
Effective preaching designed to address any social problem should include at least two steps: social description and imaginative reconstruction.
IN THE FIRST step, a detailed description of the social problem, preachers should exhibit the homiletic virtue of precision, avoiding broad generalities. The staggering regularity with which Sunday mornings arrive does not afford preachers the leisure to become experts on all topics, but there is good information to be found online. In the case of mass incarceration, credible sources include the website of The Sentencing Project; the African American Lectionary's Anti-Incarceration Day unit; the website of the documentary Broken on All Sides; and the site of the Exodus Foundation, a faith-based group assisting formerly incarcerated people.
The social description might take the simple form of a list detailing the people, places, and practices associated with a problem. Who are the people involved in the U.S. prison crisis? Responses might include formerly incarcerated persons on probation, currently incarcerated persons, the families of the incarcerated, crime victims and their families, and police officers, parole officers, and prison officials.
What are the places involved in the U.S. prison crisis? Some responses: the communities of former and currently incarcerated persons and their families, prisons and the communities where they are located, and the communities where the crimes have occurred.
What are the practices associated with the U.S. prison crisis? Arrests by police, an assortment of crimes, courtroom procedures, parole hearings, additional parental and financial responsibilities shouldered by the families of incarcerated persons, and citizens' payment of taxes to pay for police and the construction of jails and prisons.
In the actual sermon, all the rich data of the social description may be reduced to four or five minutes of preaching—but those five minutes motivate a more acute, compassionate listening from congregants than would a barrage of dry, abstract statistics.
After the social description, I encourage preachers to provide imaginative reconstructions of what good news could look like for the identified persons, places, and practices. In this step, the homiletic virtue preachers should exhibit is creativity. At its best, preaching's reconstructions can be skillfully painted images that exemplify the expansive, righteous possibilities of life under the sovereignty of God and in harmony with creation. Before preachers can be activists, they may have to be artists.
What is the good news for a formerly incarcerated person? The sermonic images might include a small, clean, furnished apartment subsidized by the congregation; a wardrobe to enable this person to engage the job market; and church-provided "life skills" seminars on oral communication and conflict resolution. What is the good news for victims of crime? Images might include a concerned group of parishioners in the courtroom to give moral support to the victim as she testifies.
What is the good news for a neighborhood besieged by the economic blight often associated with crime? Images might include an assortment of churches in the neighborhood refusing to build new sanctuaries at the cost of millions of dollars and instead building a series of secondary schools, life skills institutes, and drug recovery centers. On a grand scale, this type of creative, ecclesial investment would surely "let the oppressed go free."
WHEN MY WIFE and I permit our 7-year-old daughter to make small purchases, she sometimes, in her haste to enjoy her ice cream or candy, leaves some change on the counter. Our refrain to her is, "Don't leave any change behind."
God, our heavenly Father who is divine Mother of us all, gives us similar counsel about the priceless change of social transformation: Don't leave any change behind. In Luke 11, Jesus tells a parable that begins with a transformation: An "unclean spirit has gone out of a person." Some of us have known the joy that the man in Jesus' parable must have felt—the thrill of being transformed, the delight of being delivered, and the gratification of getting a new start. Yet unless we carry our personal and social transformations all the way to their completion, we can be worse off at the end than we were in the beginning.
The man in the parable is so relieved to get evil out of him that he fails to let good in. The demon returns, finds its former place "swept and put in order," and moves back in with "seven other spirits more evil than itself," so that the one who began with one demon ends up with eight demons. In this transformation transaction, the man fails to get all his change. Short-changed transformations are short-lived.
Those of us who preach for social transformation must constantly exhort people: "Get all your change! Don't leave any change behind!" Don't just protest mass incarceration; do the work that enables people to avoid prison in the first place. Don't just criticize bigotry; create the beloved community in our neighborhoods by embracing diverse groups of people. Don't just complain about failing public schools; adopt a school, encourage a teacher, and elect politicians committed to keeping guns out of young people's hands by providing more funding for knowledge in their heads.
For the sake of this generation and generations yet unborn, don't leave any change behind. The possibilities for positive social change are endless. The value of positive social change is priceless.
Brad R. Braxton teaches homiletics at Southern Methodist University in Dallas, Texas, and is the founding senior pastor of The Open Church (www.theopenchurchmd.org), a cross-cultural, radically inclusive congregation in Baltimore.