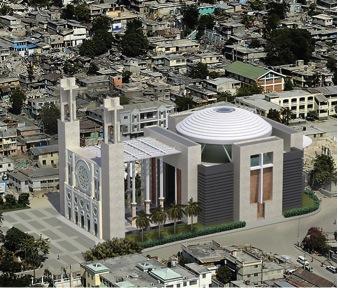 WE WERE LOOKING at cathedrals while others were mourning and burying their dead.
It was the first day of the international design competition that would help choose a few architectural plans that might be used to rebuild Notre Dame de l'Assomption, Our Lady of the Assumption, Port-au-Prince's most famous cathedral. This cathedral was so central to the city that, before it was leveled in the Jan. 12, 2010, earthquake, its turrets could be seen from most places in Port-au-Prince, as well as from the sea, where mariners used a light on the cupola of the church's north tower to help bring their ships home.
During the 2010 earthquake, the Catholic archbishop of Port-au-Prince, Monsignor Joseph Serge Miot, was killed inside an administrative building adjoining the cathedral, along with priests and parishioners. It was the images of their crushed bodies and their loved ones wailing around the perimeters of the cathedral's rubble that motivated me, a non-architect and non-Catholic—but a lover of cathedrals—to agree to join a development strategist, a preservationist architect, a structural engineer, a priest and liturgical consultant, the dean and associate dean of two architectural schools, and the editor of a magazine that discusses the dual issues of faith and architecture to help select three out of the 134 moving, elegant, and in some cases totally out-there designs that we had received from architects all over the world. Among the panelists, three of us were Haitian born, and many of the others had either worked in Haiti or in the Catholic Church for years.
The selection exercise itself was one that mirrored faith, blind faith. We were looking at sketches and plans but had no idea who had designed them. Some of the entries contained written statements that were so moving in their optimism for Port-au-Prince and its 3 million inhabitants, their hopes for Haiti and her people, and their longing for the rebuilt cathedral to serve as a symbol of renewal that they nearly brought me to tears.
You see, I grew up in the shadow of that cathedral. I spent the first 12 years of my life in Bel Air, the poor but vibrant neighborhood that in part surrounds the cathedral. When I started going to school, I would walk by it every day, along with another Catholic church that was also razed in the earthquake, Notre Dame du Perpétuel Secours, Our Lady of Perpetual Help. Together, the chimes of these churches' bells guided the routines of my day.
My entire primary school, which was nearby, was taken to Notre Dame de l'Assomption every Friday for weekly Mass, no matter what religion we individually practiced. And I was always pleasantly surprised that my uncle and guardian, a Protestant minister, never objected to my participation in this Mass. I became so intrigued by crosses, stained glass, and incense that, when I became older, whenever I traveled I always made a stop at a town's signature cathedral to see if it lived up to the signature one in Port-au-Prince.
Yes, Notre Dame de Paris and Our Lady of Strasbourg are magnificent cathedrals, but they were not surrounded by bustling street markets; they did not function in the midst of such a busy atmosphere that the buzz of people's voices and cars honking were always part of the distant echoes of the Mass. These cathedrals might have been more pristine, but their saints probably didn't hear as many urgent prayers as those of Notre Dame de l'Assomption, where worship began loudly outside, in the sun, at the foot of the cross, where novenas were shouted rather than whispered, and votive candles flickered wildly as hot paraffin dripped down the supplicants' arms.
While it is true that, in places like Haiti, many who have come to conquer and kill since the time of Christopher Columbus have carried a Bible and a cross and have used God's name to justify evil deeds, it is also true that many of us have found ways to make this conflicted legacy a part of our own.
"My childhood memories of the cathedral are quite joyful," recalls Haitian-American filmmaker Guetty Felin in Broken Stones, her 2012 documentary film about the cathedral and the people who have always found solace in its promise and now refuse to abandon its ruins. "Notre Dame was one of the only public buildings that I was not afraid of in these bittersweet years, sweet because we children were experts in creating places of refuge in our imaginations, even when the world around us seemed to be falling apart."
A CHURCH CAN be out of its place and time. It can be a museum or a mausoleum, or it can be an active, living, healing, gathering place, one of the design competition panelists said. Still, I couldn't stop thinking about the dead.
In addition to the 200,000 people who had died in the earthquake more than three years ago, I was also thinking about the 26—20 of them children—who had been killed in the massacre in Newtown, Conn., three days before we came together. Two of the children, children my oldest daughter's age, were being buried that same day. I also couldn't stop thinking about others who were dying and being mourned, even at that very moment, in Haiti and elsewhere, from hunger, from disease, from underreported wars, some without even the dignity of a simple burial, no national mourning, not even a piece of wood or a stone to mark their final resting place.
"We say nothing essential about the cathedral when we speak of its stones," Antoine de Saint-Exupéry wrote in Flight to Arras (1942). "We say nothing essential about Man when we seek to define him by the qualities of men."
Looking at cathedral after potential cathedral, I thought of how many of us go in and out of worship places only at the beginning or at the end of our lives. Some of us never enter churches or other places of worship at all unless a tragedy has occurred and we are looking for comfort for ourselves and others. For so many of us, entering a church is a prelude to burying our dead.
A city, if it wishes it, deserves places with indestructible narratives, and churches contain within their walls plenty of stories of births and deaths, renewals and rebirths. A city, if it wishes it, deserves places of healing and memory, beacons and lighthouses, and churches are often called on to serve that purpose—indiscriminately, we hope, for both paupers and kings. A city, if it wishes it, deserves places where people can come out of the sun and wind and rain—believers and nonbelievers alike—and just sit down and cry. And churches can offer that too.
Notre Dame de l'Assomption was designed and built collaboratively by both Haitian and foreign architects and engineers, and it took 45 years until the cathedral was completed and formally consecrated in 1928. It took 35 seconds on Jan. 12, 2010, for it to be reduced to a pile of stones.
Finally, looking at the first-place design, a mix of the old cathedral and a futuristic new one, potentially seismic-resistant and green, a blend of the present, the future, and the past, I remembered a reading I had heard at one of the Masses I had attended as a child.
This is how my child's ear had heard this marvelous tale:
A prophet, Ezekiel, found himself in a valley filled with bones. Then a loud voice asked him from the heavens, "Ezekiel, can these bones live?"
The bones then rose out of the ground and came to life.
"Our nation is finished," the bone people said.
But the nation was not finished. The stones would speak. The bones would live.
Edwidge Danticat is an author living in Miami. Her next book of fiction, Claire of the Sea Light, will be published by Knopf in August 2013. You can see past and present photos of Notre Dame de l'Assomption and the winning design for the future cathedral at ndapap.org.