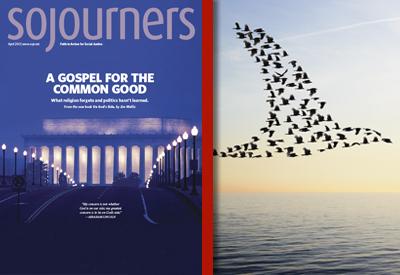 OUR LIFE TOGETHER can be better. Ours is a shallow and selfish age, and we are in need of conversion—from looking out just for ourselves to also looking out for one another. It's time to hear and heed a call to a different way of life, to reclaim a very old idea called the common good. Jesus issued that call and announced the kingdom of God—a new order of living in sharp contrast to all the political and religious kingdoms of the world. That better way of life was meant to benefit not only his followers but everybody else too. And that is the point of it.
Christianity is not a religion that gives some people a ticket to heaven and makes them judgmental of all others. Rather, it's a call to a relationship that changes all our other relationships. Jesus told us a new relationship with God also brings us into a new relationship with our neighbor, especially with the most vulnerable of this world, and even with our enemies. But we don't always hear that from the churches. This call to love our neighbor is the foundation for reestablishing and reclaiming the common good, which has fallen into cultural and political—and even religious—neglect.
Judaism, of course, agrees that our relationship with God is supposed to change all our other relationships, and Jesus' recitation of the law's great commandments to love God and your neighbor flows right out of the books of Deuteronomy and Leviticus (see Deuteronomy 6:5; Leviticus 19:18). Islam also connects the love of Allah with love and responsibility to our neighbors. In fact, virtually all the world's major religions say that you cannot separate your love for God from your love for your neighbor, your brothers and sisters. Even the nonreligious will affirm the idea of "the Golden Rule": "Do to others as you would have them do to you" (Luke 6:31).
That transformation of all our relationships, especially the clear connection between loving God and loving your neighbor, has always—when lived out—been the best catalyst for movements aimed at improving the human community. But the common good is quite uncommon today. We seem to have lost this unifying vision in our community and public life, and especially in our politics—on both sides of the aisle. In the intensely ideological and increasingly vitriolic political battles of Washington, D.C., the common good is virtually ignored.
So it's time to listen again to an old but always new vision that could, and is supposed to, change our selfish behavior—and make us happier too. Jesus said those who live by the beatitudes of his kingdom are "blessed" or "happy" (Matthew 5:3-12). But it's a happiness different from and deeper than what we are offered by a selfish society, which actually makes us feel quite fearful and unhappy.
I am a Christian. For me, these three things are clear:
Christian conversion involves more than just the destiny of the soul; it involves the way we live in the world.

Faith transcends politics, and Christianity doesn't translate only into right-wing voting issues, despite what both the conservative and liberal media love to keep saying. But neither can it be repositioned into left-wing politics. We don't simply need a Religious Left to counter the Religious Right.

Faith should be lived out in our public life for the common good. As people of faith, our challenge is to rise above political ideology and lead on moral grounds.
The common good is about so much more than partisan politics. It grows out of our personal and family lives, our vocational callings, the mission and witness of our congregations, the moral power of social movements, and the independent integrity of prophetic religious leadership in our public life as we fight not just for "our" rights but for the rights of all people.
It is time to reclaim the neglected common good and to learn how faith might help, instead of hurt, in that important task. Our public life could be made better, even transformed or healed, if our religious traditions practiced what they preached in our personal lives; in our families' decisions; in our work and vocations; in the ministry of our churches, synagogues, and mosques; and in our collective witness. In all these ways we can put the faith community's influence at the service of this radical neighbor-love ethic that is faithful both to God and to the common good.
THE GREATEST COMMANDMENT
"Teacher, which is the greatest commandment in the Law?" Jesus replied: "'Love the Lord your God with all your heart and with all your soul and with all your mind.' This is the first and greatest commandment. And the second is like it: 'Love your neighbor as yourself.' All the law and the prophets hang on these two commandments."
—Matthew 22:36-40
The summation of ethics and the religious laws, said Jesus, was to love the Lord your God with all your heart, soul, and mind, and to love your neighbor as yourself. Loving God comes first, and then is immediately connected to our neighbor, whom we are to love as ourselves. There has likely never been a more radical statement—that we are to love our neighbor as ourselves. There is no unhealthy or ascetic self-denial here. We are to care for ourselves and our families and our children, but we are asked to also care for our neighbors as ourselves, and our neighbor's children as our children. This is an ethic that would transform the world. It was supposed to, and it has.
This most fundamental teaching of faith flies right in the face of all the selfish personal and political ethics that put myself always before all others: my concerns first, my rights first, my freedoms first, my interests first, my tribe first, and even my country first—ahead of everybody else. Self-concern is the personal and political ethic that dominates our world today, but the kingdom of God says that our neighbor's concerns, rights, interests, freedoms, and well-being are as important as our own.
This ethic is not only radical and transformational; it is absolutely essential if we are to create a public life that is not completely dominated by political conflict, and if we are to articulate what might be in the interest of the common good. Perhaps, if we follow this teaching, we will even find some common ground between us.
Living out the neighbor ethic is essential to religion attaining any credibility again. Otherwise, the next generation is just going to move on from religion. Ask this question: Is love of neighbor the primary thing that people think about when they watch the behavior of our faith communities and institutions? Or are they more likely to see self-interest and judgment of others?
Religion makes a big mistake when its primary public posture is to protect itself and its own interests. It's even worse when religion tries to use politics to enforce its own codes and beliefs or to use the force of law to control the behavior of others. Religion does much better when it leads—when it actually cares about the needs of everybody, not just its own community, and when it makes the best inspirational and common-sense case, in a pluralistic democracy, for public policies that express the core values of faith in regard to how we should all treat our neighbors.
There is a deep hunger, especially among a new generation of young people, for a new ethic of loving our neighbors, in our neighborhoods and around the world. But who will offer leadership toward a new (and old) neighbor ethic for the common good? If the faith community does that, people will actually be drawn back to faith; but if we don't, our losses will continue until the majority of people will answer religious surveys with "none of the above," currently the fastest-growing affiliation.
WHERE DO WE GO FROM HERE?
The prerequisite for solving the deepest problems this country and the world now face is a commitment to this very ancient idea whose time has urgently come: the common good. How do we work together, even with people with whom we don't agree? How do we treat each other, especially the poorest and most vulnerable? How do we take care of not just ourselves but also one another? Only by inspiring a spiritual and practical commitment to the common good can we help make our personal and public lives better.
But the public discussion we must now have about the common good concerns not just politics but all the decisions we make, from our personal to our public lives. It is those individual and communal choices that will ultimately create the cultural shifts and social movements that really do change politics in the long run.
For Christians, the idea of the common good derives from Jesus' commandment to love our neighbor—including "the least of these"—which is still the most transformational social ethic the world has ever seen. But all our faith traditions agree that loving our neighbor is required if we say we love God. Making our treatment of the most vulnerable the moral test of any society's "righteousness" or integrity is ultimately the best way to make absolutely sure that we are protecting the human life and dignity of all God's children. A commitment to the common good is also the best way to find common ground with other people—even with those who don't agree with us or share our faith commitments. The common good welcomes all the "tribes" into God's beloved community, and our social behavior and public policies must show that.
Many people in America feel politically homeless in the raging battles between ideological extremes. But they could find their home in a new call for the common good—a vision drawn from the heart of our religious traditions that allows us to make our faith public but not narrowly partisan.
To be on God's side and not merely claim that God is on ours means to live out the prayer Jesus taught us to pray: "Thy kingdom come, thy will be done on earth as it is in heaven." I hope you will join the common-good conversation, which I believe could be transformative for us all.