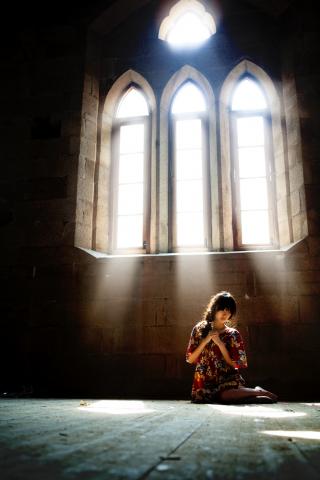 HOW SHALL WE engage with scripture through all 50 days of Easter? There are clues in the haunting story of Jesus' appearance beside the sea of Tiberius. After Easter Day many of us are ready to let things quickly revert to normal. It is, strangely, both reassuring and uncomfortable to hear that those disciples, whose business had been fishing, wanted to get back to their boats so promptly after the horrors and wonders they had witnessed in Jerusalem.
Jesus is waiting for them by the shore with breakfast already cooking. All is ready, yet he wants them to bring some of what they haul up in their nets, so he can include samples of their own catch in the menu. And what a catch it was!
Easter is our time to experience the grace that is always ahead of our game and is underway for us before we are ready. Yet grace does not exclude what we bring to the table. Grace expects and includes the work of our hands, the weavings of our imaginations, and the gifts of our unique experiences. In one sense, Eastertide is more truly a season of repentance than is Lent. One thing we might need to repent of is our passivity—those times when we expect God to hand us on a plate the meaning we are hungry for. We need to bring our own bits to the cooking fire if we are to really eat with Jesus. It is part of the mix of grace that we must participate, not just receive.
Martin L. Smith, an Episcopal priest, is an author, preacher, and retreat leader. His newest book is Go in Peace: The Art of Hearing Confessions, with Julia Gatta.
[ April 7 ]
Trust But Verify
Acts 5:27-32; Psalm 150; Revelation 1:4-8; John 20:19-31
Thomas is a radical. Do we keep on repeating the "doubting Thomas" cliché to blur the clarity of the challenge he puts to us? Thomas is adamant that, unless it can be verified that the uncanny apparition his colleagues claim to have experienced is in actuality a visitation from the Messiah who was tortured and butchered to death, then they might have been victims of a collective hallucination. Did they just think they saw the wounds?
In this week's Easter story, Jesus appears again. Thomas is given the verification he insisted on. Believing, he recognizes that the resurrection changes everything. God is now understood to be a suffering God, one who participates in the agony of a broken world. Worship is now due to a God who, far from being remote in an unseen world above, is in the here and now, on the side of the wounded and broken. Old distinctions, once so clear, that marked who God was and where God was to be found now melt away as the implications of the resurrection unfold. By directly worshipping God-in-Christ, Thomas the radical is the first to witness to the staggering transformation: "My Lord and my God!" His daring outburst of praise fearlessly transgresses the rules of monotheism. The writer of John's gospel concludes with a direct appeal to the faith of those hearing this resurrection story. They have not seen with their own eyes, but they have "seen" the astonishing revelation of God. This God is found among the sufferers, rather than the powers that be; among the victims, not those with the battalions. They have found life by entrusting themselves to the living risen One.
The dramatic salutation that opens Revelation extols the radical reversal at the heart of the resurrection gospel. It is the One who was pierced, who gave his blood as the victim of naked power, who now is not only alive, but wields the power of suffering love that makes him more powerful than all the kings of the earth put together. The seven churches of Asia, fallible and vulnerable though they seem, are visible manifestations of God's new realm, and a new priestly community of service.
[ April 14 ]
My Enemy, Myself
Acts 9:1-20; Psalm 30; Revelation 5:11-14; John 21:1-19
How many people really recognize Paul's claim that the series of appearances of the risen Christ culminated in his own experience on the Damascus road? Paul is stricken with a vision of light. Is he being caught up mystically into the heavens, making contact somehow with a resplendent hero among the heavenly host? "Who are you, Lord?" he pleads. It seems like a vision of heaven. But a voice answers in a way that brings Paul—and us—back down to earth with a bump. And down to the dirty business of conflict and oppression.
"I am Jesus, whom you are persecuting." Jesus is not a celestial being accessible only to the devout through rapture. Jesus is the suffering Lord, who is totally identified with those who have entrusted themselves to him. Those same ones who are now being beaten and jailed by the appointed guardians of order. This Messiah is intimately present and disconcertingly active in the children, women, and men who are intimidated and hurt for their blasphemous talk of a crucified Messiah. This selfsame Messiah is bearing their suffering and holding them up in courage. Paul is not experiencing Jesus for the first time on the Damascus road. He has already been coming up against Jesus time and again in the very persons of those whom he had a mandate to harass and bully. They are members of his Body! The risen Jesus suffers in and with the nonviolent, who endure violence to redeem it through suffering love. Paul is about to join them. He will learn of the Lord's message to Ananias: "I myself will show him how much he must suffer for my name."
[ April 21 ]
End of the World as We Know It?
Acts 9:36-43; Psalm 23; Revelation 7:9-17; John 10:22-30
Have you ever wanted to fling the TV remote down in disgust when your casual channel surfing brings up some grotesque program that lumps the book of Revelation with the quatrains of Nostradamus, smearing it as an occult work of prediction that, with the right key, will unlock the secrets of the end time? Where can we begin to clear the ground for this scripture to speak to us? On its own terms, Revelation is a poetic, subversive doxology born out of the faith of vulnerable and persecuted communities.
Somehow we will need to restore people's appreciation of the subversive power of poetry. Only poetry can convey the revolutionary paradoxes of Revelation. The prose of technocrats and literalists doesn't work. In today's readings we find paradox galore. A heavenly host in splendor? None other than the ordinary men and women from the battered little churches of Asia whose sufferings are in fact the great ordeal of the Messiah. Glorious robes of light? Their dazzling whiteness comes from blood, their suffering as witnesses to the crucified Messiah. Is there a leader, a promised great Shepherd from God? Actually, the only shepherd is one of the sheep, the Lamb who is one of us and acts as the bellwether ram to take us through the experience of being opposed and resisted in our witness to his path of nonviolent transformation through love.
[ April 28 ]
Fantasies or Visions?
Acts 11:1-18; Psalm 148; Revelation 21:1-6; John 13:31-35
This week's scriptures give us two visionary experiences. Peter recounts the waking dream, which he had in Joppa, of "something like a large sheet" (Acts 10:11) loaded with animals, clean and unclean, being lowered down from heaven. The visions of John, the exiled seer, culminate in a grand finale as the new Jerusalem comes down from heaven, prepared as a bride for her bridegroom.
Visions are different than fantasies. Fantasies are projections conjured up from our psyches and seldom kindle any real change in our consciousness. The psyche is intrinsically conservative. Authentic visions are an irruption of newness that circumvents our inner censors through the potency of symbol. We experience them as visitations, strenuous graces that briskly tear down the static stage scenery we have mistaken for reality, in order to reveal a vista of possibility and creativity.
Peter is shocked to discover that heaven already includes the full range of humanity, symbolized by the mixed bag of animals. The life obedient to heavenly reality is a life that practices non-discrimination, eager welcome, joy in diversity, and humility in equality. God demolishes the distinctions between clean and unclean. We see heaven as the place where our old games of pure vs. profane have been abolished.
John has a vision of God's new environment as a mobile city—one always on the move from heaven. Throughout scripture there has been a tension between the traditions of nomadic faith—resilient, mobile, flexible, simple—and traditions of city religion—rich in worship, complex in culture, fraught with inventiveness. Both have their limitations. Nomadism can be exclusive and city culture can become static and obsessed with permanence. In Revelation, the gifts of both traditions merge in a complex symbol of God's desire for a new environment in which we will experience divine companionship in our midst. A city that travels, always coming down from heaven, the source of all newness and hope.
"Preaching the Word," Sojourners' online resource for sermon preparation and Bible study, is available at sojo.net/ptw.
Image: Prayer in church, timy / Shutterstock.com