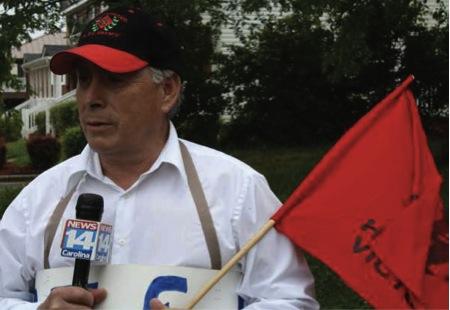 A RECENT ONLINE profile referred to farm worker labor union leader Baldemar Velasquez as both "militant" and "genius." It's hard to argue with either of those designations for the 66-year-old founder of the dynamic Farm Labor Organizing Committee (FLOC). The Toledo, Ohio-based union has used a David-vs.-Goliath style to bring corporate giants to the collective bargaining table, thereby improving the living and working conditions of perhaps the least powerful worker group in the nation.
Velasquez, an ordained evangelical Christian who received a MacArthur Fellowship in 1989, simply sees FLOC's work as God's work, and his opponents might consider following the wisdom of the Pharisee Gamaliel, who said of the apostles, "I tell you, keep away from these men and let them alone ... You might even be found opposing God!"
Velasquez, who founded FLOC in 1967, has yet to lose a battle. A 1967 strike Velasquez led against Ohio tomato growers resulted in two dozen growers signing union contracts. A national FLOC boycott of Campbell's Soup in the 1980s resulted in a three-way collective bargaining agreement that raised wages and improved working conditions for tomato workers. A six-year campaign in North Carolina resulted in another three-way deal between FLOC, cucumber growers, and the Mt. Olive Pickle Company. Today, FLOC is going after another giant, Reynolds American, the second-largest U.S. producer of tobacco products.
While perseverance and cunning strategies are FLOC's organizing hallmarks, Velasquez also brings his deep faith to FLOC's campaigns. He insists on loving his enemy, and on his followers doing the same.
"Everything that we do, everything that we say, and everything that we work around is based on loving your neighbor as yourself—including the grower, including the manufacturer, including the company," Velasquez told Sojourners . "And you learn to hate the sin and love the sinner.
"We can have righteous anger about bad things, but don't let your righteous anger get carried away with making wrong decisions. You've got to love those people, and because you love them you want to tell them they're making a mistake because the decision that they're making is hurting other people and they're going to be held accountable before the Lord in the end.
"For sure, we're all going to face that day, and we're going to go before the Lord, who will say: 'What did you do when you were down there?' You're going to be held accountable. I want to be able to say what I did, and I want to have the Lord say to me, 'Well done, good and faithful servant.'"
"FAITH IS absolutely necessary" in FLOC's struggles for justice, Velasquez said. "If you didn't have faith—'the substance of things hoped for, the evidence of things not seen'—you wouldn't have any comprehension of God's kingdom, which is righteousness, peace, and joy. And understand that you can't have joy unless you have peace, and you can't have peace unless there are those who stand up for righteousness; not self-righteousness, but the righteousness of the Lord. And the Lord wants to see us all living in some kind of harmony, reconciled with one another."
Coming to "know the Lord," Velasquez said, "turned my thinking upside down." The son of migrant farm worker parents, Velasquez toiled in the fields into his 20s as a means to pay off his college loans. "Before I knew the Lord, it was about getting even. I [was] tired of all the abuses my family went through and the cheating and the stealing of our wages and the verbal mistreatment of my mom and my dad and my siblings and so on. I just got fed up with it, and I didn't want to put up with it anymore.
"Reconciliation is a very tough thing, because you have to put the truth on the table and reconcile the oppressor with the oppressed—the people who are on the bottom," Velasquez continued. "When I began to understand that, I began to know the difference between getting even and true reconciliation."
In FLOC's current fight with Reynolds, Velasquez says victory is already assured. "It's not a question of optimism." he said. "I know that, as a Christian, victory is already won in the heavens; all we need is for those of us who are on the earth, us pilgrims, to walk it out on this earth. We need to make real on this earth what is already real in heaven."
—Patrick O'Neill