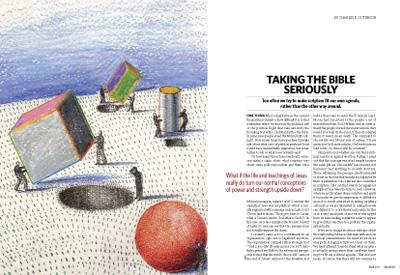 Climate change is real. Nevertheless, we all know someone who thinks it's a hoax. They say it's a natural cycle that can't be stopped. Or they ask, why worry about climate change if God is in control?
To effectively communicate the truth about this contentious issue, we have to start by understanding others' perspectives. There are legitimate concerns and good questions to address. Here are three I hear the most:
"It's a liberal scheme."
Many see climate change as yet another item on the environmental activist's agenda, one that's going to cost the government trillions of dollars and inconvenience everyone else in the process. First, it was saving the whales. Then, it was hugging trees. Now, it's climate change.
The truth is, it's different this time. It's not an issue of blue, or red, or even green politics. The climate change debate is first and foremost about whether or not the world has been warming. And it has, plain and simple. NASA's global temperature records present us with a clear choice: Either the Earth's average temperature is increasing, or all of NASA has been duped.
Our own backyards contain "natural thermometers" that document how our world is changing. Trees are flowering earlier in the year. Birds are laying eggs sooner. Invasive pests are advancing as winter temperatures warm. Globally, there are more than 25,000 examples of natural thermometers that bear witness to our rapidly changing climate. Even for the most industrious tree-huggers in the world, that's just too much evidence to fake.
"It's a scientific fantasy."
"Climate change -- what a hoax! Those same scientists who believe in evolution and a billion-year-old earth are just looking for more government hand-outs."
The reality is that climate change has nothing to do with evolution, or even the age of the Earth. In fact, if the Earth is young, then there are no major natural cycles. There's no precedent for what has been happening to our planet since the Industrial Revolution began less than 300 years ago.
Other arguments say it's the sun, or the magnetic pole, or some other undiscovered mechanism causing our climate to change -- one that has nothing to do with people. But with 6.9 billion people and counting, the idea that humans are too small a force to affect something as big as our planet is rapidly becoming untenable. Despite hundreds of increasingly inventive counter-arguments, no scientific study has been able to document any cause other than the human production of heat-trapping gases.
"There's no reason to care."
In the end, though, it all comes down to: "Why should I care? I don't need one more thing to feel guilty about."
We've all had enough of feeling bad about our sins of omission. We all know we should be eating better, recycling, and making more healthy choices. But that's not the gospel, is it? The gospel tells us we are forgiven and free. The gospel motivates us from the heart to love others.
The bottom line is that real people in real places around planet Earth are already being affected by our changing climate. Doing something about climate change is making the love of Jesus tangible to hurting people. Our God has made us into people who are designed to look outside of ourselves and love our global neighbor -- and today, that means caring about what climate change is doing to our world.
Katharine Hayhoe is a climate scientist and geoscience professor at Texas Tech University. She is the author, with Andrew Farley, of A Climate for Change: Global Warming Facts for Faith-Based Decisions (FaithWords), out in paperback in March.