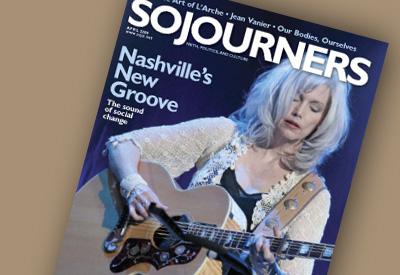 Jean Vanier, a Catholic lay leader, is the founder of L'Arche, an international network of Christian communities where people with and without disabilities share life together in a spirit of mutual dependence. Stanley Hauer­was, an Episcopalian named "America's Best Theologian" by Time magazine, is a professor of theological ethics at Duke University. In partnership with Duke's Center for Reconcilia­tion, Vanier and Hauerwas recently published Living Gently in a Violent World: The Prophetic Witness of Weakness (IVP, 2008). In November 2008, they sat down in Durham, North Carolina, to talk about community, justice, and the "politics of gentleness" with Jonathan Wilson-Hartgrove. Wilson-Hartgrove, who lives at Rutba House, a new monastic community in Durham, is author of Free to Be Bound: Church Beyond the Color Line (NavPress) and New Monasticism: What It Has to Say to Today's Church (Brazos Press).
Jonathan Wilson-Hartgrove: Jean, you were trained as a naval officer and as an academic, but you've spent most of your life now in L'Arche community. How did you end up in L'Arche?
Jean Vanier: In a way it's a very simple story. When I left the navy, I didn't quite know what I was doing. I left to follow Jesus, but how or where I didn't know. I went to live with a community in France, the founder of which I had heard about because he was a friend of my mother. I was there and I became very close to this man, a Dominican priest named Father Thomas Philippe or Père Thomas. He was a spiritual father to me. Even though I did a number of other things—doctoral studies, teaching and such—I felt bonded to Père Thomas. When he became the chaplain of a small institution for people with disabilities, he invited me to join him. So the real reason I came and discovered people with disabilities was Père Thomas. For me it was just an obvious movement. But it looked strange that I began something I knew nothing about. I didn't know why I was doing it, except to be close to Père Thomas.
Wilson-Hartgrove: Why have you stayed 44 years?
Vanier: That is a good question. First of all, I think I was at a period where I didn't want to be committed to ideas but to people. Meeting people in the psychiatric hospital, I became attached to them. When I welcomed two people from an institution into my home, I knew that it was for life. You don't take people out of an institution and say, "We're going to create community together," and then in a few years just say good-bye.
But it was also the gradual discovery of something I'd never imagined—that what is important is to accept people and love them as they are. Once that is done, then you grow together and help each other. So maybe the deepest thing in our humanity is that we are healed by those we reject.
Wilson-Hartgrove: You write in Living Gently in a Violent World about the gap between the so-called "normal" world and the world of people who have been unjustly pushed to the margins. How can responding to that gap draw people into community?
Vanier: It's easier to say why the gap exists. The gap is created by fear. The gap is what pushes us to create bigger gaps. You feel lost in front of the one who is different because you don't know his language, you don't know how to respond, you don't know if you'll be accepted. Many people reject people with disabilities because they just don't know what to do. Myths are created—the disabled are dangerous or sexually perverse. So there is fear.
But what breaks down the fear? That is the big question: What creates transformation? We meet someone. St. Francis said he always held lepers in repulsion. Then one day the Lord led him to the lepers. He said, "When I left them I had a new gentleness in my body and in my spirit. From then on, I wanted to follow the Lord." When you meet the leper and you listen to him, you realize that he's just a human being. From very deep inside of one, there arises a compassion for life.
Maybe an anger at the injustices one sees also arises in that meeting. But the whole question is around meeting. Where can we create places of safe meeting? Many people come to L'Arche because it's a safe place to meet people with disabilities. We have communities in Belfast, in Palestine—in places where people would not normally go. But our communities have tried to create places where people can meet and discover that the one they reject is a precious person.
Wilson-Hartgrove: You say, "All we're doing is making a place to meet." But Stanley comes along and says, "This is politics. This has something to say to the church." Let me ask you, Stanley, what does L'Arche have to say to the church?
Stanley Hauerwas: It is the church. It's very hard to know in our time what Christianity might look like. We're in a transition time. As Christianity loses its power, it's hard for us to imagine what it might entail. L'Arche helps us get a glimpse of what the future of Christianity might look like.
Wilson-Hartgrove: Stanley, you write that L'Arche is not a solution but a sign. When so many people want solutions, why do we need signs?
Hauerwas: Because we're Christians. Christ­ianity is fundamentally a sign that enables you to live when you know no solution. Solutions will always kill people. So we need signs that are witnesses to help us know we're not abandoned. That's a politics. It challenges the politics of power which says, "I need to do a violent act now in order to achieve peace in the future." There is no peace in the future through violence.
Wilson-Hartgrove: Jean, after having lived in Christian community for much of your life now, how would you describe an ecclesial vision for community?
Vanier: It's essentially communion. People with serious handicaps who've been rejected can only grow to greater fulfillment if they know they're loved. There's a difference between doing things for people out of generosity and being with people. The whole reality of L'Arche is to enter into relationship and become vulnerable. There's not an end or a goal that we're seeking. It's about the creation of a place where we can rejoice in our humanity because we've been bonded together.
We're not just having a good time. Our life has a meaning. That's why we really need people like Stanley. When he says, "It is the church," we need to help our L'Arche assistants see what he means. Theologian David Ford said to us some years ago, "If you don't have a good theology, your spirituality will peter out."
Wilson-Hartgrove: I know a lot of people of my generation in the church have been driven to community by our loneliness. Yet, it's hard to keep community happening because of things you've already mentioned—a lack of stability, a desire to fix things and move on to the next big challenge. Let me ask both of you: What does it take to make community happen?
Hauerwas: When people are driven to community by loneliness, it makes community too desperate. If you're in a L'Arche community, it seems like it's just one big birthday party. They understand that it's important to celebrate and have fun together. If community is just about overcoming loneliness, there's not enough fun to it.
The other thing is that you've got to have good work to do together. You can't just be community for the sake of community. You've got to have something to do. Work is liturgy. You need to worship together. But somebody's also got to clean the damn house. Work requires everyday conversation and politics. It's not accidental that the Benedictines are about work and prayer. Otherwise they'd kill one another.
Vanier: Our experience is that not many people come because they're lonely. Many will come because they want to do good. But then they have to discover that generosity leads to a meeting. And in that meeting, I learn your story. I hear your pain. That creates something even deeper.
Many people say their greatest joy is when we have birthdays and celebrations. People with disabilities can get quite crazy when we celebrate—the way they dance and get up on the table. And then you have belly laughs. The belly laugh is the best way to evacuate anguish. There's always a lot of anguish, but especially in community. Celebration re­lieves that anguish, and in celebration we discover something very deep about ourselves: We're not there to do good things; we're there to be together and to celebrate.
In meeting people with disabilities, many people discover something about themselves. A lot of people will stay because they're in a safe place to deal with their own violence and anger. We can talk about it. There's a discovery of who they are in their brokenness. But there is a meaning to this. It's not just a good experience. There is meaning in bringing together the weak and the strong, the poor and the rich.
Some people really discover what prayer is about in our communities. Our reality is to be present to people with disability. And maybe that's what prayer is—to be present.
Wilson-Hartgrove: Stanley says that peace is patience and that we see that in the gentleness of L'Arche. Is there a way that patience grows and changes the relationships at L'Arche?
Vanier: It takes time. When I ask L'Arche assistants, "How are you?" they often say, "I love the core members; it's the other assistants I can't stand." We have to help them discover that the other assistants are also handicapped people. That's a question of time and experience. Some drop off. But we're also finding that young couples between ages 30 and 40 are coming. They've already had a lot of experience in their own relationships, but they're coming for community. And they're prepared to go through certain challenges. They're saying we have to learn to live together because that is the heart of the matter.
Wilson-Hartgrove: Stanley, what could the church learn from L'Arche about a peace movement for our time?
Hauerwas: There's no substitute for people who have learned to be at peace with themselves, which probably has everything to do with peace with God, and then with other people. When peace becomes a political strategy it can become violent before you know it. Of course, I want to build down the Pentagon. I don't think Barack Obama is going to do that—not much. You have to remember you're in this for the long haul. It's one person at a time, because it's persuasion all the way down. That's long, hard work.
I often call attention to that Mennonite poster that says, "A modest proposal for peace: Let the Christians of the world agree that they will not kill each other." If we could get that, that would be a lot. Christians of the political left often want to get the government to do what we can't get Christians to do. I want to get Christians to do it. That's where I start.
Wilson-Hartgrove: Jean, how does Jesus call us to engage this violent and broken world?
Vanier: I would put somewhere at the heart of everything to love the enemy. What we have seen is people changing. L'Arche is a place of transformation. We cannot have peace in this world unless we're loving the enemy. But that means becoming naked—being vulnerable. It's a long journey. I'm 80 years old now, and it's a little easier to be naked when you're 80. When you're 30 or 40, you want results.
Resources for Community and Growth
By Jean Vanier
• Our Life Together: A Memoir in Letters (2007)
• Community and Growth: Our Pilgrimage Together (revised edition, 2002)
• From Brokenness to Community (1992)
Learn more about Jean Vanier and L'Arche at www.jean-vanier.org and www.larche.org.
By Stanley Hauerwas
• The Peaceable Kingdom: A Primer in Christian Ethics (second edition, 2003)
• Resident Aliens: Life in the Christian Colony (with William H. Willimon, 1989)
• A Community of Character: Toward a Constructive Christian Social Ethic (1981)
See Stanley Hauerwas' blog at www.stanleyhauerwas.blogspot.com.