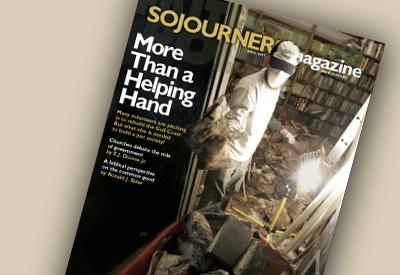 As one might expect, the schism among religious communities about which E.J. Dionne Jr. writes extends to the debate over health care. What role, if any, should the government play in ensuring that those without health insurance—currently about 46.6 million Americans—receive coverage? And that those with inadequate health coverage receive better access to care?
Some church bodies support a single-payer, government-sponsored health care plan—the United Methodists, for example. Principles adopted by their general board of church and society state, "We … recognize the role of governments in ensuring that each individual has access to those elements necessary to good health." Resolutions from the Episcopal, Presbyterian, American Baptist, and Evangelical Lutheran churches, as well as the National Council of Churches USA, among others, also call for a federally supported plan (although it's safe to say that not every churchgoer agrees with their denominations' positions).
Other faith communities push for free-market, individual health care plans, largely out of fear that government-imposed coverage would require individuals to support practices they find morally unacceptable. A plan that uses federal money to pay for abortions, contraceptives, or drugs such as RU-486, for example, or funding for stem cell research or prenatal genetic screening, would violate the religious beliefs of many—such as the 16 million members of the Southern Baptist Convention.
There are a range of views within these two positions, of course, and there are also many examples of successful partnerships between government and faith communities—not to mention private organizations—that address health care needs. Catholic Charities is one; this national organization receives funding from all levels of government, and also from individuals, organizations, and churches, which helps fund their enrollment programs for uninsured kids.
Faith communities also have worked successfully at the state level. A recent example is the work of the Greater Boston Interfaith Organization, an association of 70 Christian, Jewish, and Muslim faith communities who pushed, organized, and cajoled legislators into making Massachusetts the first state to extend health coverage to all its citizens. That law will take effect in July.
At the local level, churches have provided basic health care services and education to parishioners for decades—by offering free screenings for diabetes, hypertension, and high blood pressure, for example, or by employing parish nurses to care for the sick as well as to teach members healthy living habits. Other churches operate clinics for homeless and low-income persons—Washington, D.C.'s Church of the Saviour and the Church Health Center in Memphis, Tennessee, are two examples. In fact, the scale—and variety—of health care services provided by faith communities has merited a study from the National Council of Churches. With a grant from the Robert Wood Johnson Foundation, the NCC hopes to create by this fall a database of health care services from more than 100,000 congregations.
No doubt the information will be revealing—both in terms of how much care faith communities provide, but also in how many people are still without adequate, or any, health coverage. Perhaps the data might also help health care advocates come up with new ways to partner with public and private organizations to help the millions more whose health care needs aren't being met. The sheer scope of the problem demands it.
Molly Marsh is an associate editor of Sojourners.