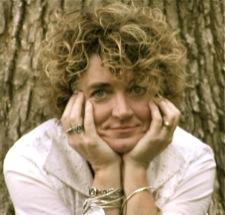 Maybe it was the construction paper or the modeling clay. Maybe it was the picture books her mother read to her as a toddler, or the A. A. Milne her father read aloud once she started school. Maybe it was the dance classes or the macrame or the health food. Of course it could have been that her grandmother was a painter, her great-uncle a Juilliard pianist, her mother a dancer, and her father an unconventional minister. It could have been her brothers' antics over kick-the-can, or their Hobbit drawings or guitar songs, or the dozen or so dogs they had, or the absurd number of places she lived growing up. Maybe it was the ADD that they didn't have a name for in those days, or the manic depression that followed, or the struggle to find her own spirituality.
Whatever it was, Stacy was bound to end up as some kind of artist. She was performing professionally by the time she was nineteen and directing, writing and creating interactive theater by twenty-four. Her first published words appeared when she was twenty-five, but it wasn't until her thirties that she took writing seriously. After four kids, the theater turned out to be rough on family life, and so she began to keep the poems she scratched on the envelope backs that floated around on the floor of her minivan. She was thirty-five when a Mack truck totaled that minivan, forcing her to give up theater and dance because of migraines and herniated discs. She turned to writing and promptly won a small pack of awards for her poetry and scripts and within a few years landed a job as a free-lance scriptwriter for the Disney Company. Since then she has published short stories, poems, plays, children's books and an animated short film.
Stacy lives with her husband Todd and the last of their four kids in Maitland, Florida, where they've made their home for 20 years. When the house is quiet, she writes for Disney or works on her new novel or plays with construction paper for old time's sake.
Posts By This Author
Mother's Week: Letting Go and Outside, Poems
05-08-2012
Outside
By Stacy Barton

I sit in the light of two fluorescent bulbs –
one flickering above the workbench,
the other swinging over the washer and dryer –
and wonder over my nest, soon bare.

Here in the garage,
with only the leftover laundry to stir my memory,
I find fewer cues to catapult my heart.
Mother's Week: Homecoming, A Poem
05-07-2012
Homecoming
By Stacy Barton

Suddenly you are there,
the smell of womanhood about you.
Hi Mom.
Ripe with dance,
your body moves like words on a poets tongue.