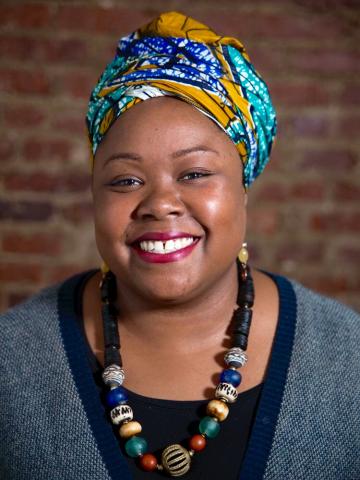 Onleilove (pronounced Onlylove) Alston was born and raised in East New York, Brooklyn. Currently, she is the executive director at PICO-Faith in New York, where she leads a multiracial and multifaith faith based organizing federation of 70 congregations representing 80,000 New Yorkers who are working to Build the Beloved City-where some not all of God's children can live in dignity. Onleilove is also a workshop facilitator, speaker, and writer.
After receiving her bachelor's degree in Human Development and African-American studies from Penn State University, she completed a year of service with AmeriCorps Public Allies New York. In 2011, she received her Master of Divinity and Master of Social Work degrees from Union Theological Seminary and Columbia University School of Social Work, respectively.
She is a contributing writer for Sojourners magazine, The Black Commentator, Huff Post Religion and NPR's Onbeing blog, as well as other print and online publications. Having experienced poverty and homelessness, she has developed a compassion for people fueled by her passion for justice, and knows that the gospel is truly "good news to the poor." Onleilove serves on Mayor Bill de Blasio's Clergy Advisory Council, the board of directors for Sojourners, ALIGN and on the advisory boards for the Women's Organizing Network for the Micah Institute at NY Theological Seminary. A womanist Onleilove writes and lectures on the implicit bias of colorism and its impact on African-American women and leads A Women's Theology of Liberation for the PICO Network.
For her writing and activism work, Onleilove has received the Public Allies New York Local Alumni Award, Bennett Fellowship for Social Justice from Auburn Seminary, the National Association of Social Workers-NYC Scholarship for Social Justice, United Food and Commercial Workers International Union Minority Coalition Young Adult Award, and the 2011 Evangelical Press Association's Student Writer of the Year First Place Award for her Sojourners cover story: "Dethroning King Coal: Christians defend a way of life, and the earth, in Appalachia."
In 2014 she founded Prophetic Whirlwind: Uncovering the Black Biblical Destiny to uncover the Black presence in the Abrahamic religions and is currently completing a book on this subject. Onleilove lives in Harlem and has five siblings and a large extended family in both New York and North Carolina.