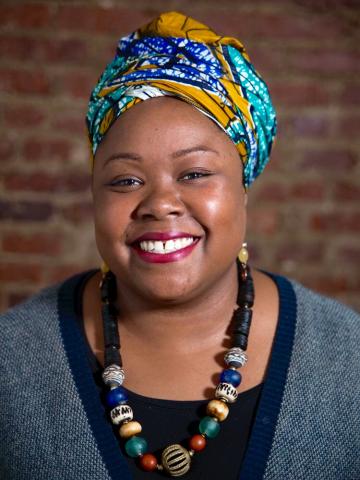 Onleilove (pronounced Onlylove) Chika Alston, Founder of Prophetic Whirlwind was born and raised in East New York, Brooklyn. Currently, she is the executive director at PICO-Faith in New York, where she leads a multiracial and multifaith organizing federation of 70+ congregations representing 80,000 New Yorkers who are working to Build the Beloved City — where all of God's children can live in dignity. Onleilove is also a community organizer, speaker, and writer.

After receiving her bachelor's degree in Human Development with a minor in African-American studies from Penn State University, she completed a year of service with AmeriCorps Public Allies New York. In 2011, she received her Master of Divinity and Master of Social Work degrees from Union Theological Seminary and Columbia University School of Social Work, respectively.

Her writing has been featured in Sojourners magazine, Huff Post Religion, The Black Commentator, and NPR's On Being blog, as well as in other print and online publications. Having experienced poverty and homelessness, she has developed a compassion for people fueled by her passion for justice, and knows that the gospel is truly "good news to the poor." Onleilove serves on Mayor Bill de Blasio's Clergy Advisory Council, the board of directors for Sojourners and ALIGN, as a Commissioner for the Poor People's Campaign and on the advisory boards for the Women's Organizing Network and The Micah Institute. She has completed The Beatitudes Society Senior Fellowship, The Collegeville Institute Fellowship and the FPWA Faith and Justice Fellows Program. A womanist Onleilove writes and lectures on the implicit bias of colorism and its impact on African-American women; leading A Women's Theology of Liberation and Live Free W.O.M.B. (Women Organizing Out of Mass Incarceration and Brutality) for the PICO Network. In 2016 Onleilove testified before the United Nations Working Group for People of African Descent Testimony on Mass Incarceration's Impact on Black Women & Girls.

She has been a featured speaker and workshop facilitator at CCDA, Dartmouth College, Why Christian, Sojourners' Summit, The 2015 African Hebrew Conference in Israel, and The Samuel Dewitt Proctor Conference among other conferences, congregations, and organizations.

For her writing and activism work, Onleilove has received the Public Allies New York Local Alumni Award, The Lost Angels Society Survivor Award, The Bennett Fellowship for Social Justice from Auburn Seminary, the National Association of Social Workers-NYC Scholarship for Social Justice, United Food and Commercial Workers International Union Minority Coalition Young Adult Award, and the 2011 Evangelical Press Association's Student Writer of the Year First Place Award for her Sojourners cover story: "Dethroning King Coal: Christians defend a way of life, and the earth, in Appalachia."

Her travels and work have taken her to Scotland, England, Switzerland, Israel, Ghana, and Togo.

Onleilove has five siblings and a large extended family. She worships at Beth-El The House of Yahweh where she co-leads the Missions and Evangelism Team and is an active member of Inner City Light House. For everything she has accomplished Chika says To Yah Be the Glory!