Posts By This Author
Some Assembly Required: A Conversation About Faith and Family
, 07-25-2012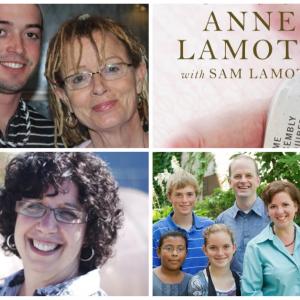 Twenty years ago, author Anne Lamott was ambushed by her unexpected pregnancy. Her best selling 1993 memoir, Operating Instructions, describes her tumultuous first year as a single mother after her son Sam's birth.
When Sam turned 19, he told his mom that he and girlfriend Amy were about to become parents, a life-altering event for the young couple. The news did some serious upending of Anne Lamott's life as well. Anne and Sam together agreed to tell the story of the growing up that all three generations of Lamotts did during baby Jax's first year.
As Anne Lamott notes in the book, Some Assembly Required: A Journal Of My Son's First Son, "…I'd always looked forward with enthusiasm to becoming a grandmother someday, in, say, 10 years from now, perhaps after he had graduated from the art academy he attends in San Francisco and settled down into a career, and when I was old enough to be a grandmother."
Not long ago, I had an opportunity to have a different sort of conversation about Some Assembly Required with God's Politics contributor Jennifer Grant, mother of four children between 10 and 16, and author of the new memoir Momumental: Adventures In The Messy Art of Raising A Family .
Who doesn't love eavesdropping? Take a few moments to listen in as Grant and I chat about Some Assembly Required and a few of the lessons our own children and grandchildren are teaching us...