Matt Manry is the Director of Students at Life Bible Church in Canton, Ga., and a student at Reformed Theological Seminary. He blogs regularly at gospelglory.net Twitter @matt_manry
Posts By This Author
The Objective Gospel For Suffering Christians
11-05-2012
"The prevailing view in much of contemporary Christianity is more subjective. It tends to be far more focused on the happiness and moral performance of the Christian than the object of faith, Christ Himself." –Tullian Tchvidjian
Personally I tend to always focus more on my problems when I am going through trials. I am sure that some of you reading can relate to this. It seems normal to focus on ourselves during seasons of suffering. When I look back at the most difficult time of my life, I realize how self-absorbed I was with everything that I was going through. I felt that no one could understand or relate. I felt alone and isolated. My focus was on trying to figure out a way that I could fix myself.
The days and weeks passed by and eventually my suffering faded away with time. But when I look back and remember those days it amazes me how internally focused I was! The reality that strikes me still today is the fact that there was nothing within myself that could make my suffering go away. I read my Bible and read some self-help books, but nothing could alleviate my pain. Was I doing something wrong? Did I not have enough faith? Was God punishing me for my sins? It angered me that I did not have the power within myself to just "make life all better". I was helpless and hopeless during that season of life. There was nothing that I could do. I was a sinner in need of a Savior (1 Timothy 1:15).
The Gospel: The Cure For Human Trafficking
11-02-2012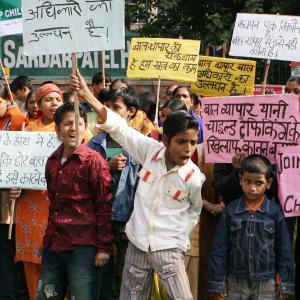 The Disease: Modern Day Slavery
Human trafficking is a worldwide enterprise in the 21st century. In the United States, USAID has reported that between 12 and 27 million people are victims of human trafficking worldwide.
Even in our American society, men and women are being sold and traded for labor or sexual purposes every day. According to the Freedom Center, three out of every four victims are female and nearly half of modern-day slaves are children. It is hard to imagine that this problem could go unnoticed for very long. The good news is that on Sept. 25, the president took notice of the disease that affects 17,500 American people each day.
President Barack Obama stated that slavery, "is barbaric and is evil, and it has no place in a civilized world."