Ken Wytsma is the founder of The Justice Conference and author of Pursuing Justice: The Call to Live and Die for Bigger Things.
Posts By This Author
The Need for Ferguson to Continue
08-22-2014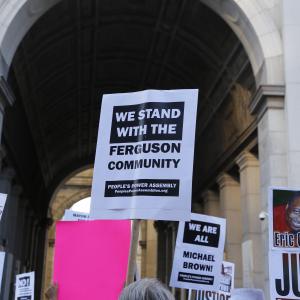 This week, I saw a torrent of debate about who reached for the gun and why police don't shoot people in the leg rather than taking their lives. Neither angle seems to capture the bigger story at play on the evening news and fueling protest marches across Missouri.
On Sunday I preached to my church on race, current affairs and how to process — in a biblically loving way — what has been happening to brothers and sisters in Ferguson. (See video below) Talking about race and current affairs can be taboo in evangelical churches, and it was interesting as I saw a few couples exit the back door as I spoke.
Last week, I penned my thoughts on why we should pray for the saints in Ferguson. It was the outgrowth of my personal frustration and the pain I feel over the misunderstandings on race that can pervade the majority culture.
Race, Current Affairs & Prayer from Antioch Church on Vimeo.
Richard Twiss, Speaking Plain Truth, and Promoting Diversity at Christian Conferences
03-21-2013
This past weekend I attended the memorial for a very dear friend and amazing individual, Richard Twiss. Richard, who was a descendent of the Sioux and Lakota tribes of South Dakota, was a scholar, writer, speaker and thought leader. Richard was also a follower of Jesus.
Richard was both one of the most personable and charismatic individuals I've ever met. He had a way about him. I've never known someone so authentic and full of love as to make everyone he spent time with feel unique, special and valuable. Richard was also one of the sharpest prophetic voices I've ever heard. He was unyielding with logic and his respect for truth. He was hard as nails when it came to excuses from others who would try to compromise truth. Truth, for Richard, was unwavering.
If I was able to ask Richard today how best to honor him, I know that — after talking about his concern for his wife, kids, and grandkids — he would expect me to use my voice to speak truth.