Karen Halvorsen Schreck once had lunch with the Queen of Holland. There were many forks. Perhaps this inspired her (failed) attempt at waitressing. She lives outside Chicago with her husband and two children. Karen also is the author of several books, including her brand new (May 1) young-adult novel While He Was Away and visit karenschreck.com to read more of her work.
Posts By This Author
Driving Home
05-08-2012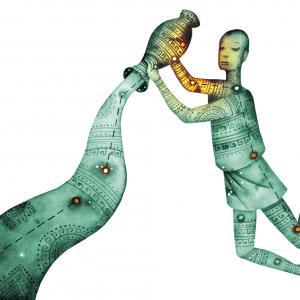 This past spring break, I took my 14-year old daughter to the Illinois Holocaust Museum and Education Center.
My daughter has had a difficult middle school experience, especially these last two years. This last year, we have both, in describing it, used the word "hell."
We have been frequently at odds in these months, my daughter and me. I often feel that I have failed her, that I have failed myself.
One point of connection has been her explorations around World War II and the Holocaust. She has read books about it — novels, mostly. We have watched movies that, in my naiveté, I didn't imagine she would watch for a while. There have been questions, discussions, recollections of stories her grandfather, a WWII vet who is now deceased, once shared with her, with me. There have been nightmares, too, where I wonder if we are, yet again, making the best choices in our twisting, turning journey through this year, this path.