Editorial Assistant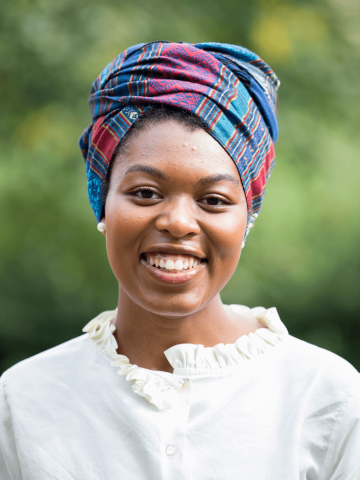 A somewhat reluctant resident of the Land of Lincoln (LOL for short), Faith Zamblé comes to Sojourners with a B.A. in Media Studies and Fine Arts from North Park University, in Chicago. Studying both media and art in college gave her a lot of time to think about how words and images can conspire for change, and being in D.C. gives her a lot of time to think about the role of a city in the stories we tell about ourselves.
As Editorial Assistant of the magazine, Faith gets to put on her metaphorical trench coat and hunt down fake news. If you see her with a magnifying glass, you can assume she is looking for clues. Faith is a budding curator/artist as well, who always knew that her habits of accumulation—not hoarding!—would eventually pay off. She is interested in art that connects people, challenges social norms, and is visually exciting. This is probably why she is a huge fan of the Great British Bake-Off.
When not at work, you can find her starting a Netflix series she won't finish, ranting about theology, spinning a new conspiracy theory, defending said theory, and most importantly, as poet Danez Smith says, trying to create a world, "we can be grateful for, not grateful in spite of… a world good to us, all of us, all us."
Posts By This Author
Will Christian Colleges Speak Up for Victims of Sexual Assault?
11-27-2017
Students are leading efforts to reframe the conversation around gender-based violence.
SECRETARY OF Education Betsy DeVos this fall weakened laws that make campuses safer places for students to live and learn—particularly protections from sexual harassment. "[T]he system established by the prior administration," DeVos said, "has failed too many students."
DeVos is targeting Title IX, the landmark 1972 legislation to prevent gender-based discrimination in college athletics. Over time, Title IX was strengthened by the addition of the Jeanne Clery Act, a federal mandate requiring schools to be more transparent about their handling of sexual-assault cases and more proactive in efforts to change campus attitudes regarding predatory behavior.