Climate Justice Associate
Alaura Carter is the Climate Justice Associate at Sojourners. A Washington D.C. native, she believes you should "warm her heart not her planet." She is a graduate of Florida A&M University with a bachelors in Public Relations and a minor in Environmental Science.
Alaura has had the opportunity to intern and work for several non-profit organizations, doing environmental organizing, communications, law and policy, and education outreach. She believes in the education and outsourcing of environmental ideas, issues, and solutions. While at Sojourners she is working on a number of projects to help save the earth, "In Jesus' Name."
When not trying to be Captain Planet, she enjoys shopping, live music, watching court shows, and learning more about earth science.
Posts By This Author
A Prayer for Peace Amid the Storms and Earthquakes
09-20-2017
As creation cries out to us, let us listen, let us learn,
let us open our hearts to those devastated by the storms
and open our minds to care for creation.
Healthy Bodies, Healthy Planet
03-24-2017
Black and Latino churches are becoming strong voices for people and creation.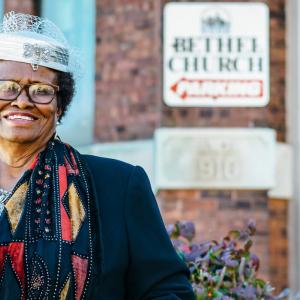 PEOPLE OF COLOR in the United States are exposed to 38 percent more asthma-producing nitrogen dioxide than are white people. People of color are twice as likely as whites to live without potable water or modern sanitation.
The "big green" environmental movement often focuses on national issues and federal policy, dividing people along partisan lines of red or blue. But churches and low-income communities focus on people and their daily lived experiences. Though both are fighting for just causes, because the environment affects us all, the big greens sometimes overlook the people on the ground or do not represent them accurately.
"We have a moral and spiritual obligation to look at the impact of climate change in general and how it impacts people, including our constituents," said Rev. Leo Woodberry, pastor of Kingdom Living Temple, an independent African-American church in Florence, S.C.
Woodberry's church takes a robust approach to local environmental issues, including looking at climate change, air quality, and environmental justice for communities that are over-burdened and vulnerable, particularly communities of color. They also look at "environomics," said Woodberry. "That's where the economy and environment meet and allows corporate polluters to come into communities and dump toxins because it's profitable for them," he said.