"What do you want to be when you grow-up?" is the pressure filled question that people begin asking as soon as they feel young people are old enough to answer.
From there it only gets worse. It's a question I hated answering. Adults and media filled my mind with careers that would make me financially secure and, in their minds, happy. So these careers filled my answers: doctor, lawyer, and pharmacist. I would be something important, and life after college would be financially easy.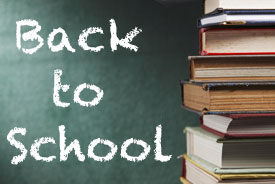 I babysat often through high school and remember a mom asking the dreaded question. I answered that I wanted to be a lawyer. She asked if I had ever thought about teaching. My response? I laughed and told her that was the last thing I wanted to do.
And then I met my high school English teacher.
Mrs. Stein fit the part of a typical high school English teacher. She wore suits and heels most days, her hair was always styled, and she meant business. I remember being terrified the first time she walked into the classroom. It didn't take me long to realize she may have been stern, but she truly cared for each one of her students. On top of her heavy teaching load, she sponsored clubs and directed two plays a year. She was selfless with her time and energy. She challenged me inside of the classroom like I had never been challenged before. She related literature to real life, expanding my views and making learning a whole new experience. She pushed me, but rather than making me feel inadequate, she fostered my confidence. She made teaching seem like an entirely different profession than I previously thought. I never doubted that she truly cared and would do anything to see me succeed.
She sparked my interest in teaching. Although I had many great teachers along the way, she opened my eyes to the importance of teachers in the lives of their students.
Nine years after I said teaching was not the career for me, I am preparing for my fourth year in the classroom. Even with the constant changes in education and the negative views many project onto teachers, I could not imagine my life without my job and my students. I am proud of my career and the difference I can make. For this, I thank Mrs. Stein and the other outstanding teachers who shaped my life.
Though I rarely wear heels in the classroom, I don't own a suit, and my hair stays in a ponytail, I can only pray that I will touch the lives of students the way she touched mine.
Summer Middaugh is a 6th grade Language Arts teacher in Tallahassee, Fla.