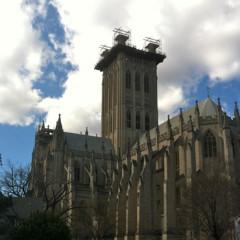 The Washington National Cathedral, still recovering from a rare 2011 East Coast earthquake, has won $100,000 in preservation funding after being the top vote-getter in the "Partners in Preservation" campaign.
The cathedral will receive all the money it requested from the campaign sponsored by American Express and the National Trust for Historic Preservation. It will help pay for inspection and repair of its nave's vaults following the quake that hit the Washington area.
"We are overjoyed by this vote of support for our restoration efforts," said the Very Rev. Gary Hall, dean of Washington National Cathedral, which sustained $20 million in damage.
The three other houses of worship competing among 24 grant candidates also received significant grants: Metropolitan African Methodist Episcopal Church: $90,000 to restore stained glass windows on the church's facade; Sixth & I Historic Synagogue: $75,000 to renovate a dozen of its stained glass windows; and All Souls Church Unitarian: $50,000 to repair a bell tower crafted by the son of Paul Revere.
"We hope the Partners in Preservation funding is just the first step in ensuring that these cultural sites are accessible for many years to come," said Timothy J. McClimon, president of American Express Foundation.
A total of $1 million will be given to D.C. historic sites, including Congressional Cemetery and the dining room at George Washington's Mount Vernon estate.
"It has been inspiring to see the tremendous support local preservationists have shown their favorite historic places in the Washington area," added Stephanie Meeks, president of the National Trust for Historic Preservation.
Since the initiative began in 2006, American Express has committed $10 million and aided historic landmarks in Washington and seven other cities. In three of the previous campaigns, religious institutions won the top vote.
Adelle M. Banks is production editor and a national correspondent at RNS. She joined the staff in 1995 after working for more than 10 years at daily newspapers in the upstate New York communities of Binghamton and Syracuse, The Providence Journal and the Orlando Sentinel. Via RNS.