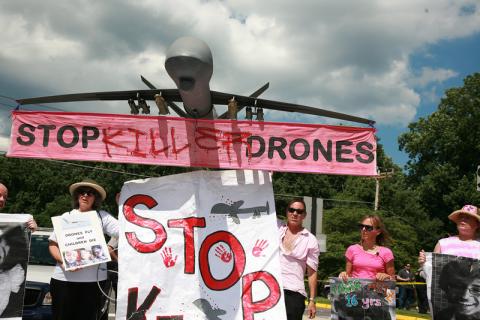 On May 23, President Obama gave a major address from the National Defense University, in which he personally acknowledged for the first time the U.S. government's killing of four Americans — along with scores of others — under its program of assassination by remotely controlled drones. I was able to watch this televised speech from the privileged vantage of a federal prison on the last day of a sentence resulting from my protest of drones operated from Whiteman Air Force Base in Missouri.
Over the previous six months in the Federal Prison Camp at Yankton, S.D., I had watched from afar as the discussion on drone warfare emerged from the fringe and into the mainstream. Fellow prisoners brought me clippings on the subject from their local newspapers and kept me apprised of what they heard on the evening news. The American people seemed to be just awakening to the reality and consequences of wars being fought and assassinations carried out by unmanned but heavily armed planes controlled by combatants sitting at computer screens at stateside bases far from the conflict.
My own anti-drone activism began with protests at Creech Air Force Base in the Nevada desert in April 2009. Even some otherwise well-informed people were skeptical, back then, that such things were even possible, much less happening daily. Many who were aware accepted the simple and happy narrative of drone warfare as a precise, new, high-tech system in which soldiers from a safe distance of thousands of miles can pinpoint those who mean us imminent harm with little or no collateral damage.
The fact that four years later, on the day before my release from prison, the president of the United States was defending the use of drones before the country and the world is truly remarkable. This is not a discussion that he or anyone else in the government or the military encouraged, nor one that the media was anxious to take on. The fact that the issue is up for discussion at all is due to considerable efforts of the few here in the U.S. and the U.K. in solidarity with many in the streets in Pakistan, Yemen, and Afghanistan protesting this foul weaponry. Communities of protest and resistance in Nevada, New York, California, Missouri, Wisconsin, England, and Iowa thrust the issue into local forums, courts, and media through creative actions and legal stratagems, effectively demanding that grievance over drone killing be heard. The president's own speech was itself only rescued from being the cleverly constructed but empty litany of alibi, half-truth and obfuscation that it was intended to be by the interruption by our friend, Medea Benjamin.
In his 1963 "Letter from a Birmingham Jail," Dr. Martin Luther King, Jr., noted that often a society like ours, "bogged down in the tragic attempt to live in monologue rather than dialogue," requires "nonviolent gadflies" in order to "create a tension in the mind so that individuals could rise from the bondage of myths and half-truths to the unfettered realm of creative analysis and objective appraisal."
As with the issue of segregation 50 years ago, so today the parameters of discussion allowed by politeness and good manners or sanctioned by the police and courts simply cannot abide the objective appraisal of drone warfare that the times require. Such as it is, the discussion is made possible only by some who dare speak out of turn, as Medea, or who use their bodies to intrude on the orderly commission of criminalities in our midst.
Just weeks after the president spoke at the National Defense University, a journal published by that same institution released a study that debunked his assurance that "conventional airpower and missiles are far less precise than drones, and likely to cause more civilian casualties and local outrage." Drone strikes in Afghanistan, the study found, were "an order of magnitude more likely to result in civilian casualties per engagement."
Another assurance the president gave, that "America cannot take strikes wherever we choose; our actions are bound by consultations with partners, and respect for state sovereignty," was discredited on June 8, when the U.S. ambassador to Pakistan was summoned by the prime minister of that country angry over a U.S. drone attack that killed nine people.
"It was conveyed to the U.S. chargé ď affaires that the government of Pakistan strongly condemns the drone strikes, which are a violation of Pakistan's sovereignty and territorial integrity," said Pakistan's ministry of foreign affairs. "The importance of bringing an immediate end to drone strikes was emphasized."
The president also said, "We act against terrorists who pose a continuing and imminent threat to the American people."
Formerly the word "imminent" referred to something about to happen at any moment. But John Brennan, now director of the CIA, suggested in September 2011 that "a more flexible understanding of 'imminence' may be appropriate when dealing with terrorist groups."
This more "flexible understanding of imminence" justifies the assassination not only of those caught in the act, but also of targets who are suspected of having written something or said something to make someone think that they might have something to do with an attack on the U.S. someday. A person who is caught on the drone's video feed from 7,000 miles away as acting in a manner consistent with someone who might harm one day may now be eliminated as an imminent threat.
Referring to the killing of Anwar Awlaki, an American citizen in Yemen, the president assured us that "for the record, I do not believe it would be constitutional for the government to target and kill any U.S. citizen — with a drone, or with a shotgun — without due process."
The general usage of the words "due process" would cause the misapprehension that the right of a citizen to have trial by jury before being executed is being reaffirmed here. But "this is simply not accurate. 'Due process' and 'judicial process' are not one and the same, particularly when it comes to national security. The Constitution guarantees due process, not judicial process," said Attorney General Eric Holder in March 2012.
The burden of "due process" can now be met when the president decides based on secret evidence that a citizen should die.
Drone technology is changing our language beyond redefining terms like "imminence" and "due process." In Iowa where I live, the Air National Guard unit based in Des Moines has replaced its F-16 fighter planes with a Reaper drone control center. This transformation was marked by changing the unit's name from the "132ndFighter Wing" to the "132nd Attack Wing." This change is more than symbolic — a "fight" by definition has two sides and the word implies some kind of parity. There is such a thing as a fair fight and a fight usually has some kind of resolution. An attack, however, is just that — one-sided, something that a perpetrator inflicts on a victim. A fighter might sometimes be justified — an attacker, never. There is no "just attack" theory. The parsing out of innocent and guilty drone victims is in a sense a waste of time. All alike are victims.
"For me and those in my chain of command, those deaths will haunt us as long as we live," the president said.
Those words had a truer ring a few days later, spoken on NBC News by Brandon Bryant, an Air Force drone operator who confessed to being haunted by the 1,600 deaths in which he took part. Bryant admitted that his actions made him feel like a "heartless sociopath," as he described one of his first kills — sitting in a chair at Creech Air Force Base in Nevada when his team fired on three men walking down a road in Afghanistan. It was night in Afghanistan, and he remembers watching the thermal image of one victim on his computer screen:
"I watch this guy bleed out and, I mean, the blood is hot. I can see every little pixel, if I just close my eyes," Bryant said.
The remoteness of the drone warrior is no protection from the moral damage of war, and these people are victims as well, and it is on their behalf as well that we protest.
We cannot know the hearts of President Obama and those in his inner circle but it is not hard to wonder whether they are truly haunted by the deaths of those killed by drones at their commands. If they may not be haunted by their own consciences, perhaps the responsibility of haunting them falls to us.
This post first appeared at Voices for Creative Nonviolence. It has been edited for length. To read the piece in full, please go here.
Brian Terrell is a co-coordinator of Voices for Creative Nonviolence and lives on a Catholic Worker Farm in Maloy, Iowa.