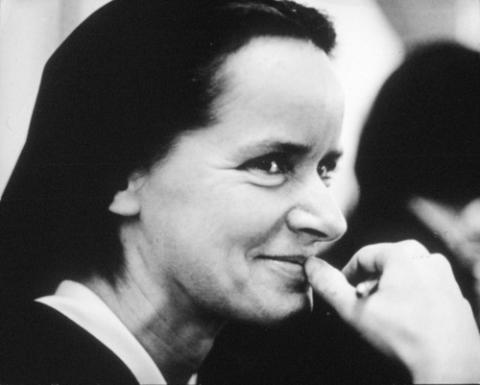 ++ Join us in showing our appreciation for Catholic women religious (aka nuns or "sisters") on Thank-a-Nun Day, May 9. Click HERE to send a thank-you note online. ++
Bright bold text danced across expansive white-framed serigraphs lining our college student center. The first moment I set foot on my college campus, Westmont College in Santa Barbara, Calif., the artwork of Sister Mary Corita Kent captured my heart and imagination.
One playful print, about the bread of life, features the signature bold red yellow and blue Wonder Bread wrapper.
Another featured Beatles lyrics: "I get by with a little help from my friends."
One, playing on the name of the West Coast grocery chain "SafeWay," points to the One who called himself "the Way."
Another — the commentary of one Roman Catholic upon another?— employed Scripture to reference JFK: "There was a man sent from God whose name was John."
Yet another, in patriotic red, white and blue, features the words of Camus, "I should like to be able to love my country and still love justice."
At 18, not yet knowing myself to be called as a bearer of color and words and truth, my voice was unleashed by the prophetic artwork of Sister Corita.
That my singular attempt at actual serigraphy ended in me, and an outdoor campus work area, being covered entirely in sticky colorful paint, did not dampen my enthusiasm for the work and mission of Sister Corita. Her indelible imprint has, in fact, marked my art, my preaching and wordbearing of all manner over the last 25 years. Though she was taken by death in 1986, just 12 cruel months before I learned of her, she remains to this day a silent, colorful, mentor.
I do, of course, envy terribly her actual students. Corita, a Sister of the Immaculate Heart of Mary, ran the Art Department at Los Angeles' Immaculate Heart College until 1968. A documentary of Corita's life, Primary Colors, shows the almost frenetic excitement of the work they created together in turbulent social times. In addition to teaching, Corita also partnered with Physicians for Social Responsibility, designing the signature image for their "We can create life without war" campaign, as well as Amnesty International. Employing all the elements of the hot new pop art style, Sister Corita's work was given in service to a higher good.
One of Corita's designs, featuring bold strokes of rainbow colors, was chosen as the United States Postal Service's very first "Love" stamp. When the location for the opening ceremonies to unveil the new stamp was announced, though, Corita politely declined to attend.
The event was to be held on the Hollywood set of popular 1970s sitcom The Love Boat! (Youngsters: It was a corny sitcom about singles, and marrieds, finding romance on a cruise ship.) Love, real love, Corita gently explained, was about something else.
Today, the print that hangs in the entry hallway of my home, "Enriched Bread," juxtaposes the words of a Kentucky miner's wife with those of Gandhi. Against hints of Wonder Bread wrapper background, the miner's wife explains, "It's bad you don't know what to do when you've got five children standing around crying for something to eat and you don't know where to get it, and you don't know which way to start to get it. I just get nervous or something." The words of Gandhi, butted against them, explode with meaning, "There are so many hungry people that God cannot appear to them except in the form of bread."
Delicious.
Oddly, aptly, these words I offer cannot do justice to the bursts of color and meaning that are Corita's legacy. Please, right now, Go to Google images and search "Corita Kent." Wait—I've done it for you, HERE.
You can also learn more about Corita's life and work at www.Corita.org. (Okay, I am now weirdly noticing, at Corita.org, that the print hanging in my hallway is available on the homepage as a linen tea towel. Not sure the artist would have authorized that, but so glad for the folks who are keeping her important legacy alive.)
With all my heart, I thank this Sister for using her voice and her gifts to the glory of God.

Margot Starbuck, the author, most recently, of Small Things With Great Love: Adventures in Loving Your Neighbor, is itchy to live a Jesus-propelled life of love, especially among those on the world's margins. Which only rarely requires the screaming. Read more from Margot on her blog, MargotStarbuck.com.
++ Join us in showing our appreciation for Catholic women religious (aka nuns or "sisters") on Thank-a-Nun Day, May 9. Click HERE to send a thank-you note online. ++