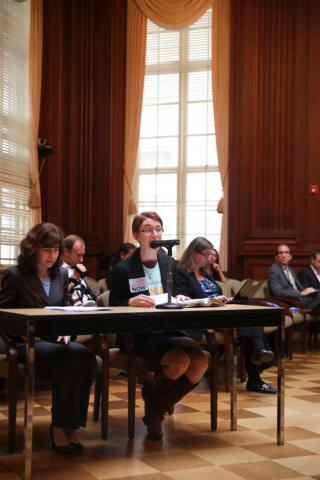 Editor's Note: This post contains two of many testimonies given at an Environmental Protection Agency (EPA) listening session at EPA headquarters in Washington, D.C. The EPA held sessions in 11 regional offices across the country to allow the public to comment on the agency's plans to begin regulating carbon dioxide emissions — one of the heat-trapping pollutants that contributes to climate change — from existing coal and natural gas-fired power plants. The public was invited to share up to three minutes of spoken testimony to an EPA panel for the agency's consideration. We also have multiple other testimonies in parts two and three.

Brittany Bennett: Love God and Love Your Neighbor
My name is Brittany Bennett. I'm a graduate student at the Catholic University of America. I am pursuing a Masters in Civil and Environmental Engineering. I also work there as a laboratory technician, supporting projects that lead to improvement in nuclear and coal waste processing. I am a part of a group called Young Evangelicals for Climate Action — a national group representing those in my generation who share an evangelical Christian faith and concern about the climate crisis. Locally, I also serve with a project of a worldwide Christian Conservation organization, called A Rocha, which is an organization that focuses on following the biblical call to stewardship through scientific research, environmental education, and community-based conservation projects.
What brought me to speak at this hearing today is a desire to voice my support of the regulation of carbon through proposed regulation by the EPA. It is my belief that all of life is sacred and connected as it was so created and intended by God, and our actions always have consequences. Adding excessive carbon into the atmosphere disregards a natural cycle, and in allowing that input, we've allowed it to shape and disrupt the cycle and our surroundings.
Children and the poor are particularly vulnerable to small of course large changes brought in our environment. As the impacts of global climate change are beginning to take place, everyone in my generation and younger, regardless of anything else, has a lot at stake in our lifetime. We have not known what is like to experience the world before temperatures starting warming, and the lifetime of our own children is getting hard to think about.
I don't even have children of my own yet, but I have younger brothers and sisters who've been concerned because they know more climate change could mean more events like Hurricane Sandy. My youngest sister and I live on two different coasts right now, and for the first time both of us this year starting having difficulty with allergies. It's been studied that an increase in carbon shifts pollen concentrations and timing. As young and healthy as I should be, I spent a few days calling into work this year, and cutting down on time that I would normally enjoy outside. For people who are already prone to heart and lung disease, they are at a greater risk of having attacks.
Jesus taught that the two most important commandments are to love God and love your neighbor. To love God, I desire to honor what He has made as good, and to love my neighbors means that I cannot ignore when their homes are flooded or burned, when they have to deal with disease and shortages of water and food.
And I must struggle with why. We understand why climate change is happening. There is a great opportunity to prevent the worst-case scenarios from occurring. I am able to do a few things in my life to reduce the carbon impact I have as an individual, and I know I can do more. What I really hope is that we can do the same thing in our shared economy and with decisions like this in regulating carbon.
Margaret Bowker: 'One Nation, Under God'
My three points, in support of reducing atmospheric carbon dioxide, were these:
Ecosystems exist in a dynamic balance of chemical recycling and species interaction. Ecosystems adjust to imbalances, but the record CO2 emissions and concentrations can no longer be absorbed and threaten the existence of ecosystems, especially the key dominant species. Humans depend, for survival, on the stability of Earth's ecosystems.
Sacred literature of all faiths requires humans to care for God's Creation — the Earth and all life. As a nation with a rich religious heritage, "One Nation, Under God" America should feel an ethical obligation to sustain all creation.
My non-profit company takes me to Kenya yearly, where I see firsthand the suffering and challenge to very survival because of climate change. The people, plants, and animals of Kenya depend on the two periods of rain, highly predictable in the past, now unpredictable. Rains start, and then quit, or never start, or cause unprecedented floods. Subsistence farmers lose their food crops, wells dry up, and starving and desperate animals invade the villages. People and animals compete for the muddy and filthy water in the shrinking ponds. People, animals, and plants are dying because of climate change.
Testifying was not difficult or stressful. The session was well organized, and the EPA panel polite and attentive. I encourage everyone to submit input, either at a listening session or in writing: carbonpollutioninput@epa.gov.
Check out parts two and three to read more testimonies from the listening sessions.
Liz Schmitt is the Creation Care Campaign Associate.