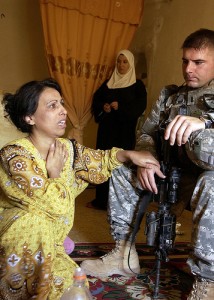 A study released this week by a global humanitarian aid organization concluded that three out of every five widows in Iraq lost their husbands in the years of violence that followed the 2003 invasion.
The study by Los Angeles-based Relief International found that about 10 percent of the estimated 15 million women who live in Iraq are widows. Among them, 59 percent have lost their husbands during the U.S.-led war.
The study warned that criminal gangs and terrorist groups might try to recruit desperate widows, and that ignoring their suffering could lead them to prostitution, drugs, and terrorism.
"The Iraqi state has neglected the widows with their enormous problems, and the solutions lie in the establishing of bodies to take care of and solve the problems of these women," the report said.
The report was released at a conference in Baghdad where parliament speaker Osama al-Nujaifi pledged to help widows through job opportunities, salaries and loans to help them start small businesses.
"The misery of those widows has an impact on the whole society," al-Nujaifi said. "This catastrophe is growing, and its danger will threaten our values."
To read the full article, click HERE.