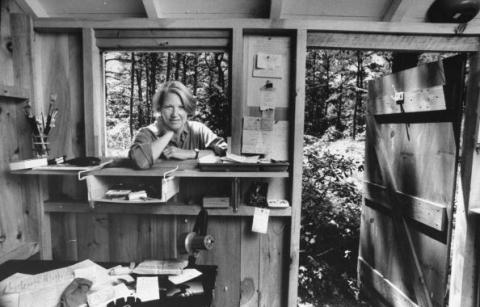 When Sojourners CEO Jim Wallis departed on his three-month sabbatical at the beginning of January, I sent him a list of books, films and music that I thought would nourish his mind and spirit in, perhaps, different ways than the media he normally consumes do.
Jim's sabbatical — a true Sabbath in the literal sense — is designed to be a time of rest and, more importantly, rejuvenation. It will also be a creative time when he will be working on a new book.
Jim is a creative. A writer. A visionary. He regularly digs deep into his heart and soul, breaks himself open and pours out his passion, hope and faith for the edification of others. If creatives aren't diligent, though, we can work ourselves into the ground. Our wells can run dry.
In sending Jim this list of what I like to think of as "soul food," I hoped to inspire his imagination and give him new fuel for the fire, if you will.
A few friends who saw the list asked for a copy to share with others, and encouraged me to share it here on the blog, in case there might be a nugget or two in the mix that would be a blessing to you (or someone you know.)
This is, of course, a totally subjective list. But it is mine.
May something on the menu feed your imagination and slake your soul-thirst, too.

BOOKS

Holy the Firm by Annie Dillard (PLEASE READ THIS FIRST. It's quite short and one of her lesser-known books. But I often return to it when I'm beginning to write. It's a special book. And you could read it in an hour or two.)

The War of Art by Stephen Pressfield (Another one that I wouldn't even think about trying to start writing without reading it.)
The Genesee Diary by Henri Nouwen (An oldie but a goodie — this is Nouwen's memoir of a time of great transition in his life and the months he spent in silent retreat at a Trappist monastery.)

Walking on Water: Reflections on Faith and Art by Madeleine L'Engle

Velvet Elvis: Repainting the Christian Faith by Rob Bell. (His first and still, I think, his best)

All New People by Anne Lamott (One of her earliest novellas and my favorite of her fiction.)

The Pastor: A Memoir by Eugene Peterson

All is Grace: A Ragamuffin Memoir by Brendan Manning

Secrets in the Dark: A Life in Sermons by Frederick Buechner

Lamb: The Gospel According to Biff, Christ's Childhood Pal by Christopher Moore (Requires a significant suspension of disbelief, but it's wonderfully whimsical, funny and its message is one that will linger long after you've put it down.)

Poetry

Why I Wake Early and Thirst by Mary Oliver

North, Field Work and Human Chain by Seamus Heaney

MOVIES
http://youtu.be/mKDbHa7PANA

From the Sky Down (The new U2 documentary — released on DVD today — explores how the Irish band came to make create its album Achtung Baby 20 years ago. At the time, the band members almost called it a day. But instead, they re-imagined and recreated themselves, their sound, and their friendship. Super powerful on the issue of how we are inspired, where inspiration comes from, and how we can be vessels of grace for one another.)

Lars and the Real Girl (One of the very best cinematic depictions of what Christian community should be.)

Buechner: A Documentary (A little-known documentary of Frederick Buechner filmed the day the war in Iraq began in 2003. Stunning film. Buechner ever leaves me inspired and pole axed with his forthrightness and wisdom.)

Endgame (This film — featuring simply outstanding performances by William Hurt, Chiwetel Ejiofor, and Jonny Lee Miller — chronicles the behind-the-scenes negotiations that brought an end to apartheid in South Africa. Magnificent.)

Breakfast on Pluto (A Neil Jordan film adapted from the novel by Patrick McCabe, this quirky little film set in Dublin follows the adventures of Patrick "Kitten" Braden, "a gay Candide," as one reviewer called him, "off on a kaleidoscopic journey of self discovery." It's weird and wonderful and idiosyncratic. Just ... watch it.)

Millions (Magical thinking. Saints, real and imagined. And the purity of a child's faith. Such a beautiful and inspiring film. I dare you to watch it and not want to run out immediately to try to change the world for the better in whatever way you can.)
Harold and Maude (My favorite film. Full stop. One that you might have seen before but maybe not in many years. Ruth Gordon's "Maude" is, I think, one of the most enduring characters in modern cinema. Would that we would all find as much joy and wonder in life as she did.)

MUSIC

So Beautiful or So What by Paul Simon

Sigh No More by Mumford & Sons
Fallen Empires by Snow Patrol
Hymns of the 49th Parallel by k.d. lang

Everything is Everywhere and The Geography of Light by Carrie Newcomer

Passengers (Original Soundtracks 1) by Passengers (aka Brian Eno and U2)
Breakfast in New Orleans, Dinner in Timbuktu by Bruce Cockburn
Cathleen Falsani is Web Editor and Director of New Media for Sojourners. Follow Cathleen on Twitter @GodGrrl.