I've learned that women want things.

And this is good.

And mothers? They want good things — the best things — for their children.

Nestled almost dead-middle of what's considered to be the most Jewish of the gospels, we're presented with an unnamed, non-Jewish mother who is out of her element in almost every way. Her daughter is going through hell-on-earth: she's suffering from a demon. She needs a little bit of heaven to invade and save this situation.

So she heads to a Man, Who:
has been favorable towards women,
has been favorable towards non-jewish people,
has some experience with getting demons in line,
has proven to be the Expert of heaven-on-earth.
She pleads (loudly). Jesus blows her off (quietly). others get involved:

"Jesus, we really need You to do… a little bit more here."

So, Jesus, already seemingly out of character, acts in a manner continuing to be unlike Him:
"I'm not here for you."

She keeps going. It now leaves the realm of words, and she's throwing herself at Him. It's becoming a scene.

Jesus continues in Matthew 15:26:

"He replied, 'it is not right to take the children's bread and toss it to the dogs.'"

Jesus more or less tells a woman off. I have yet to meet the non-sports-or-rap culture where "dog" is complimentary to anyone. He uses a metaphor implying she's less that human. But He hits harder than just that: He's brings up the whole question of who's in and who's out.

"You are not one of the chosen. sorry. what you want? Baby, what I have isn't for you."

What she wants is a good thing — a heaven crashing into earth thing.

And she gets blocked by none other than the Man responsible for heaven and earth.

This is Jesus? The Man Who is Love Incarnate? The God-Man by Whom everything was made that is made? The God Who cares?

Recently a friend and i were discussing how Jesus universally raises women up. Maybe the woman knows this. Jesus has quite a track-record. Maybe she does not all of His doings up to this point, even if He is reknown. But either way, she believes.

Hers is a belief in Jesus that Jesus rejects.

How could any rejection (twice now) be any worse? To be rejected by that One and rejected in such a way that's worse than being on the receiving end of Pharisees? You're not just getting rejected — you're not just getting the finger from a Man Who does this to no one — you're getting the double-deuce from God.

Round three (Matthew 15:27):

"'Yes it is, Lord,' she said. 'Even the dogs eat the crumbs that fall from their Master's table.'"

She more or less tells Jesus off.

"Jesus. You're wrong."

And this is offensive to us. It's hard to type, even.
Who are we? Who are any of us to tell God what's what? Wasn't that God's point in job to a the man without fault, faith that looks like audacity?

This woman is a Canaanite. so, not only because of her chromosomes is she an outcast, but because of her lineage, geography, and people's history, she's even more on the outside of favor.

What gets harder for some of us who've read the quadrology — who know the ending — is this: Isn't Jesus here for the outsiders? For the outcasts? Why would He say this to her? We almost find that as shocking and offensive as her telling Him off (but then we let Him off the hook, because He gets to play the...well, Jesus card).

This is the type of passage that freaks me out in scripture because there's no clear path. It's almost as if Jesus speaks in a riddle, and she responds with a better variation of the riddle.

The surface level: Jesus says, "Nope. Sorry. See ya."
So, surface-level "obedience": "Well, Jesus said, 'No and go away,' twice. So, that's what i'll do."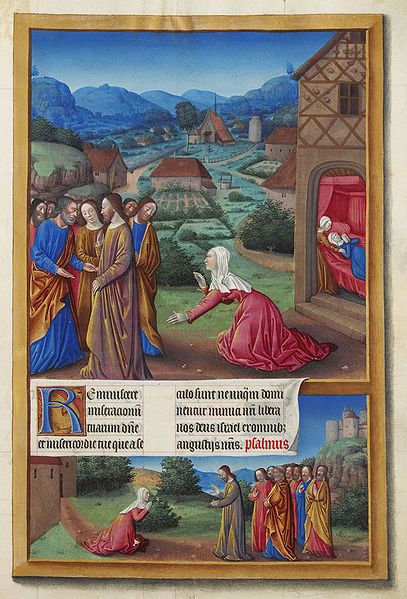 The surface level is the failure level.

The surface level is the black and white.
The surface level is the do x, get y.
The surface level is knowing.
The surface level takes no thought.
The surface level likes being told what to do.
The surface level is easy.

But to look at it the other way is to look back at riddles. And who wants a riddle-based faith?
We want answers. hard. concrete. definitive data that points the way.

But that's knowing, not faith.

Faith sometimes gets its best chance to display and flourish when it is challenged — when we struggle in the fog, which is pain in its best of times, but worse when there are real consequences on the line.

And what is faith? Ed Dobson says that faith is persistence and orientation. It's pushing (persistence) into (orientation) God.

It's "I'm not going to give up."

Who is she, this woman? Like most women in scripture, we're not told her name.

She's nameless (to us).

She's female.

She's foreign.

She's not only foreign, she's a Canaanite. There's a pretty good chance she is what we would call a "mutt." She doesn't even have dignity in whatever non-Jewish race she is.

There's also a pretty good chance she's widowed, as she has no husband going to bat for her. And on top of that, there's a pretty-good chance she's a widow without sons, as there's no male figure stepping up.

She's about as "unchosen" as you can get. The absolute bottom of the barrel.

Recently, the 17th Spider Man movie ended with a classroom scene in which the teacher proposed that every story in literature is really the question: "Who am i?"

Identity. The fundamental question below everything is identity.

And Jesus, at the surface-level, apparently rejects her. No, he stiff-arms her.

But in reality He is in effect challenging her identity. How she views herself. How she will take the labels given to her by everything not her: She didn't choose her race, her gender, the death or lack of males in her life. but more, how she will respond to it.

Surface level: walk away. Jesus has said, "No," and you just don't backtalk Jesus.

But she does. With the wisdom of solomon. With the pursuit and pressure and persistence of jacob. into God.

In a manner that harkens back to the very event that transformed Jacob into Israel: "I will not let You go until you bless me."

The God-figure to Jacob: "Let Me go."

Jacob: "No."

Jesus: "Sorry. See ya."

Our heroine: "No."

In this very uneasy-for-a-lot-of-people-who-love-Jesus way, she lives from her heart, not the rules. The rules are telling her: "Leave." Her heart says, "Fight."

But Jesus also challenges His identity in her. In another place, a little later, He would ask it like this: "Who do you say that I am?"

But instead of that nice, a-lofty-philosophical-discussion-with-friends-at-a-coffee-shop context, He's doing it within the envelope of jeopardizing her daughter's well-being. And pretty publicly, too.

I saw a movie a few years back that introduced me to Buddy Jesus. Buddy Jesus is a small figurine that generally sits on your dashboard. And he's your pal. He's safe, non-threatening, and he's even got this genie-type vibe to him.

Head back a little farther to Depeche Mode: "Your own. Personal. Jesus."
http://youtu.be/u1xrNaTO1bI

Jesus. Right where you want him.

We're faced with true and false Jesuses. All the time.

Jesus challenges the woman's identity in her. But Jesus also challenges His identity in her.

Cling. Or walk away.

And in the spirit of Hananiah, Mishael, and Azariah, she responds:

"Even if You do not show up. Even if You do not save us from even this. Even if You do not prove Yourself true. I. Still. Believe."

We believe certain things about God. Some of those things are wrong, and need to be dismantled. In big ways. But some of those things are right, and need to be clung to. Even when He is the one challenging them.

A faith that has opportunity to deny itself is the only faith that has opportunity to last. The real. The true. Otherwise it's just a construct. and a construct that equates to playing in the shallow-end of the sandbox.

If you're anything like me, that can freak you out to your deepest levels.

Is God not constantly asking us these two questions:
"Who are you? No. Really. The true you. Who are you?"
and
"Who am I? No. Really. The real Me. Who am I?"

Jesus is deeply invested in redeeming both.

Back to our heroine...

She's been handed the very real opportunity, by Jesus Himself, to reject her belief. With highly apparent, "real"-world stakes: her daughter's very immediate and violent torment. But for Jesus, the deeper issue is identity.

She responds: "Jesus. everything might be telling me that You're not real. That You're not Who You say. That Your track-record is false. And You might be part of that everything. But i'm not letting go. Even if You tell me otherwise, i still believe."

She takes what she's handed, turns it on its head, and is praised in only about one of the highest ways you can be praised, from the One who topples all praise:

"Woman, you have great faith!"

Effectively, she has shown that she is more Israel (Jacob, the transformed man, the father of the people) than a lot of Israel (the descendants and surrounding people at that day and time).

She is his true son. She fights for the heaven she came for, but she fights for the heavens in her.

Below the surface level:

Jesus: "You have all things going against you. If I even nudge you towards them, will you go back to them? Will you go back to these labels and definitions? Who are you, really? Will you embrace your true self when challenged?"

The woman: "You may be the Lord, the true Solomon, but i won't take these false definitions of You and me, even from You."

Sometimes, to see our true faith, it has to be challenged, smacked in the face. Sometimes in pursuit of our real and true selves, which is the only soil where real and true faith can flourish, we have to face a real and true opportunity to deny it. Only then it has the chance to bloom. to break through the seed's wall, to bust forth from the cocoon.

Sometimes, we need to fight Jesus.
Ty Silzer is a recent transplant to Grand Rapids, Mich. He loves soccer, pictures, sun, lightning, life, puppies, cantaloupe, sushi, reading, writing and washing dishes. But he loves a good conversation more than anything
Photo credits: Jacob Wrestled the Angel by Tim & Selena Middleton via Wylio.The Canaanite Woman (Les Très Riches Heures du duc de Berry, Folio 164r - The Canaanite Woman the Musée Condé, Chantilly) via Wiki Commons.