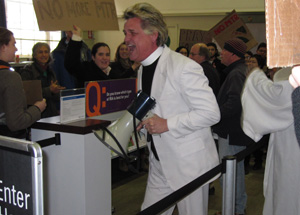 Reverend Billy and the Church of Earthalujah! has pulled it off again, this time in Swarthmore, Pennsylvania. On April 2, residents of the quiet town were greeted by a theatrical convergence in a local PNC Bank branch location where Reverend Billy and his Stop Shopping Gospel Choir teamed up with Swarthmore College students and community members to call attention to PNC's dirty financial practices.
More than 60 people went inside the bank and filled the lobby with cries to 'save the mountains!' as performance activist Reverend Billy preached against mountaintop removal (MTR) coal mining, a practice that destroys mountains, causes cancer and health problems in Appalachian communities, and has already buried thousands of miles of streams. Demonstrators waved messages of 'No More MTR,' and 'Bank Like Appalachia Matters' as the Gospel Choir sang anthems. When police were called to ask the group to leave, Reverend Billy moved the impromptu congregation outside and led them in song in front of the bank. Interested passersby stuck around to watch the show.
PNC remains one of the largest financiers of MTR and is hugely complicit in environmental devastation and climate injustice, despite attempts to brand itself as a green bank. Reverend Billy and the Church of Earthalujah's action in fron tof the Swarthmore PNC branch was supported in conjunction with the Earth Quaker Action Team as part of their ongoing campaign to call for PNC's complete divestment from MTR. As the result of prior pressure, PNC has changed their corporate statement to reflect a partial shift, but has not entirely divested. An environmentally-conscious student presence was strong as well. "Students have got to turn out in full force to challenge abusive financial practices," said Kate Aronoff, member of the direct action student group Swarthmore Mountain Justice. "If we don't hold institutions accountable now, then 'Lord Almighty!' think about the world we will inherit tomorrow."
[This blog appears through a partnership with Waging Nonviolence.]
Anjali Cadambi is a student environmentalist and artist-provocateur. She is currently operating out of Swarthmore College.