"As [Jesus] came near and saw the city, he wept over it, saying, 'If you, even you, had only recognized on this day the things that make for peace!'"(Luke 19:41-42)
Things were bustling when we arrived at the Crystal City Doubletree that warm, cloudy Saturday morning. Bleary-eyed and fueled by toast and coffee, I stationed myself beside two of my fellow interns at the Sojourners exhibit table, which was draped in our signature orange. We were surrounded by representatives from all sorts of faith-based social justice initiatives, organizations that fight back against everything from torture to the water crisis. Sitting there at the head of the exhibit hall, it was obvious from the get-go that Sojourners is part of a robust, widespread community of Christians engaged in efforts for peace and justice.
This was the 2014 Ecumenical Advocacy Days national gathering, a forum at which Christians from across the country and the denominational spectrum came together to learn more about issues of peace and justice and prepare to speak out for policy changes. With their schedules full of workshops and plenary speakers, trainings and informational meetings, participants wound their way through the conference center and filled their minds and hearts with knowledge for action. And every so often, when their busy days allowed, they stopped in at the exhibit hall.
I had the great gift of meeting the folks who came by to say hello. While a few of them were hearing about us for the first time, most were veteran sojourners. I asked them how they first heard of us:
"Oh, I've been a subscriber forever!"
"The Fast for Families got me connected to Sojourners."
"I first heard about Sojourners through some teacher colleagues of mine."
"I knew Sojourners back when it was the Post American!"
"I got connected to Sojourners during my middle school years through the nuclear freeze movement."
"I moved to D.C. around the same time that the original Sojourners community arrived. We were neighbors!"
Some even took the time to share with us why they have joined the Sojourners movement.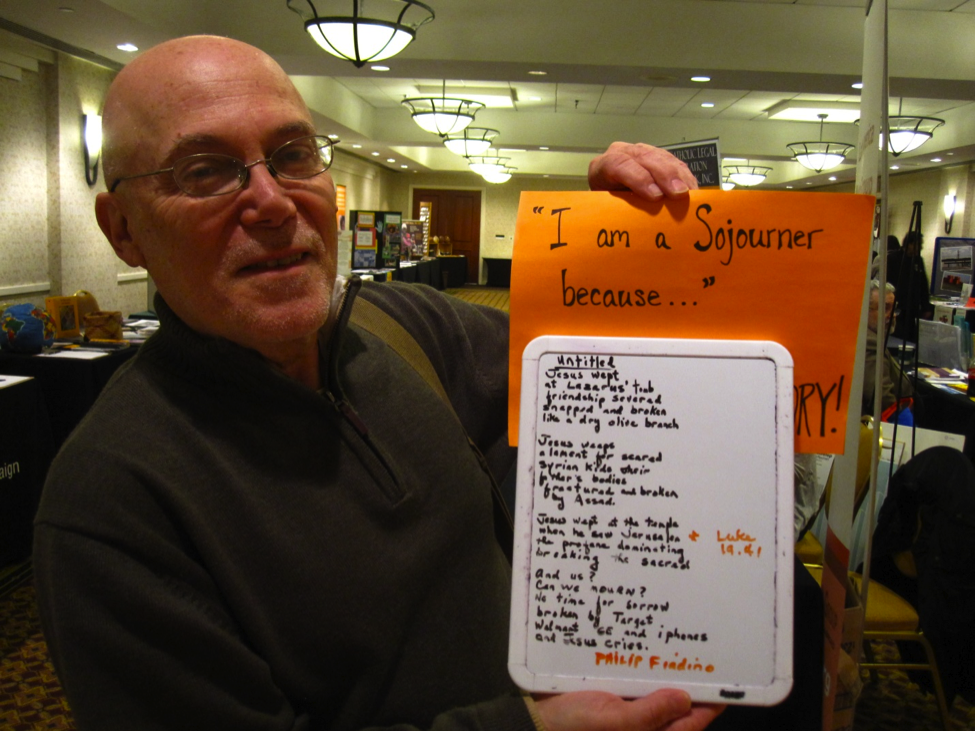 Philip Fiadino
The Sojourners community is so much more expansive than I knew, and so passionate and committed! We thank God for that. As one of our long-time sojourners told us at our booth that day, "I've been in the struggle with you a long time." It is a communal effort. It is because we walk this road together that we are able to cover any ground. As the donor services assistant at Sojourners, I see this first hand in conversations with our Sustainers Circle. The support of these dedicated donors keeps us going. We are able to do what we do because of the partnership and collaboration and encouragement of the people who travel alongside us. And we are challenged to do better because of those very same companions.
The theme for EAD 2014 was "Jesus Weeps – Resisting Violence, Building Peace." We weep with him – not only over the city, but over all of the world's deep brokenness. We do not know the things that make for peace, and so inequality and exploitation and greed and violence ravage the globe. But as we respond to that heartache with action in the hopes of building a more just and peaceful society, even if our efforts seem small, we can do so in gratitude for the community God has provided us in each other.
As Sister Kathleen "Kaye" Ashe eloquently phrased it:
In good company,
in a community of conviction,
the quest never loses its relevance,
its urgency,
or its savor.
Thank you for being such good company. Thank you for keeping us going.
Emily Peterson is Donor Services Assistant at Sojourners.