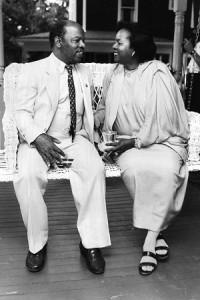 Amidst the jubilation of the new year and a long awaited solution to the fiscal cliff crisis lies sad news: Lillian Miles Lewis, the wife of U.S. Rep. John Lewis, died Monday morning in Atlanta, his office announced. Spokeswoman Brenda Jones said John Lewis is returning to Atlanta but had no more details to release about the cause of death.
The Lewises had been married 44 years. They have one son, John Miles.
Atlanta Journal Constitution reports:
In his memoir, Walking With the Wind, Lewis recalled how his wife helped him decide to run for Congress in 1977 — a race he lost to Wyche Fowler — and became his chief adviser.

"She had always been very involved in politics, much more than I. She had been a delegate (supporting Shirley Chisholm) to the Democratic National Convention in '72, and she was constantly active in a variety of local circles and organizations. She was outgoing, involved, intelligent and great in front of an audience — she could make a speech. She also knew how to organize, how to chair a meeting, the nitty-gritty stuff. When she finally said, 'Let's do it. Let's go for it,' that was enough. We were in," Lewis wrote.

Mrs. Lewis continued to play a major behind-the-scenes role in her husband's career, which progressed from winning a seat on the Atlanta City Council in 1981 to his upset victory over Bond in the 1986 congressional race.
Brandon Hook is the Online Assistant at Sojourners.