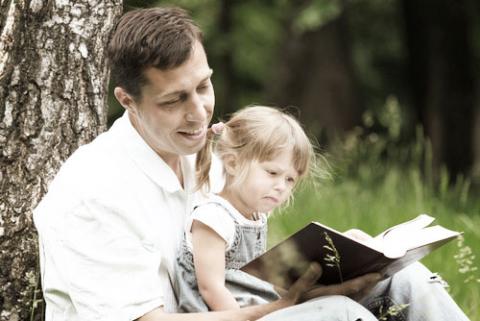 I wonder if God reads the Bible. I mean, what we're trying to do when we read the text is to understand it the way God understands it, right? I grew up in fundamentalist churches where biblical authority derived from the belief that God wrote it. I remember writing a paper at my Baptist college in which I said God "inspired" the authors to write what they had written; my Bible professor corrected me, saying God had inspired the text itself. I know he was just trying to fortify in me the doctrine of inerrancy. In this view, authority lies in God's breathing of the Word, in what God meant when he wrote it. God speaks; we try to understand.
But what if God reads the Bible? And what if, as feminist Bible scholar Claudia Camp argues, scriptural authority "is always understood in relation to the authority of persons?" (p. 61) In one sense, this conclusion is inescapable. Paul's second letter to Timothy may give us intra-biblical proof of the Bible's own "inspiration," but that's a kind of circular reasoning, isn't it? The Bible did not decide for itself what it was. By the time I wrote that college paper, Rodney Clapp's book A Peculiar People had already opened my eyes to the very human process that gave us the Bible. It did not drop out of the sky like spittle from the mouth of God; the church drew water from the rivers of wisdom, put it in the containers of the old and new testaments, law, prophets, and Gospel, and discarded what the church deemed unnecessary. It was a messy, political process like any collective endeavor.
What, then, of inspiration? I like to believe God was in that earth-bound process, just as God has been in the trials that have refined me: fundamentalism, existential despair, parenthood, divorce, remarriage. And, either way, could God not use for good what the canon-crafters meant for evil? Camp and other feminist interpreters want to take a text that's patriarchal on its face and excavate it for its "life-giving quality." Quoting feminist theological matriarch Elizabeth Schüssler Fiorenza, Camps says understanding Scripture should follow "Augustine, Thomas and the Second Vatican Council in formulating a … canon that limits inspired truth and revelation to matters pertaining to the salvation, freedom and liberation of all, especially women. The source of this canon, moreover, is not scripture but rather the community, specifically, the community of women struggling against oppression" (p. 57, The Theological Interpretation of Scripture).
As so I ask, again, what if God reads the Bible? What if God is part of this activist community and is, in fact, its quiet catalyst? As the father of two little girls, I do hope we have that sort of God. How would a feminist God give authority to the text as Reader, not as Writer? It's hard for me to think about that apart from my feelings for my own children, which I might summarize as a sort of "feminist-patriarchy:" I want what's best for my girls, and sometimes (OK, most of the time) I think I know what that is.
"Father" is perhaps the Bible's central metaphor for God, and not always for the best. Schüssler Fiorenza says we have to come to Scripture with a view of a God other than "a God of patriarchal oppression" (Camp, 55). Camp says we thus need to read Scripture as "tricksters" or the "strange woman" of Proverbs, like Tamar or Ruth or Delilah who "pose the possibility that good – indeed, the will of God – can come from (women's) evil" (65). "To read, then as a 'trickster' or a strange woman involves, first, claiming identity with those at the margins and, second, a willingness to read against the text, to read subversively," Camp writes.
Without a doubt, our imagined non-patriarchal Reader-God would stand with feminist critics in reading Scripture in a way that challenges the status quo. But, on the other hand, given God's reputation — the history of oppression against women (and others) in God's name — this non-chauvinist God would also have to sneak up on the activist community as Camp's sort of "trickster" – "a 'liminal' figure … who stands at the margins of [feminist] authority, who embodies ambiguity and chaos, and who reminds the established orders that such forces of indeterminacy are inescapably present in their midst" (p. 64, my italics).
I suppose when I talk about this Reader-God, I am really talking about myself, the privileged, white male without much credibility in the cosmic march toward peace and freedom. My ilk and I should not feign to become the reinforcements for the self-stated weakness of Camp's feminism: "If we will listen only to those parts of the Bible we agree with, where then is its challenge to faith, its ability to make us see the log in our own eye, as we rub at the speck we find in Israel?" (65). The Spirit will have to work on that one. But if the feminists can let God the Father hang on the margins, maybe we Dads and aspiring dads and other patriarchal thinkers can ride His coattails.
With apologies to Camp, Schüssler Fiorenza, and the feminists for co-opting their language, how about a "trickster-patriarchal" Hermeneutics of Dad? What if I read Scripture looking for "salvation, freedom, and liberation" for my two daughters? To know that God created them in God's own image. That they, like each one of us, will strive to construct meaning and control in their lives apart from God. That God will interrupt their struggle with Incarnation. That God will care for them, like the sparrows, bless them in their poverty, confuse them in their pride. That God will make all things new for them and their children. I don't know, but I certainly hope God imagines all this for all of us when God reads the Bible.
Jesse James DeConto spent 11 years as a newspaper reporter and editor with the Xenia (Ohio) Daily Gazette, the Portsmouth (N.H.) Herald and the News & Observer in Raleigh, N.C. He now works as a contributing editor for Prism magazine and a regular contributor to The Christian Century. He blogs at http://jessejamesdeconto.com.
Photo: Dad and daughter reading the Bible, KonstantinChristian / Shutterstock.com