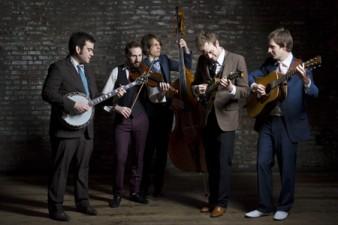 People often say the mark of a true "master of a craft" is one who makes something ridiculously difficult look easy. Chris Thile, former member of Nickel Creek and front man for folk group Punch Brothers, is one of those people. As my buddy standing next to me at last night's Punch Brothers show in Washington, D.C. said, "It's like he's an extension of the mandolin. He can do anything he wants with that thing." I mean, the guy can almost flawlessly whoop out some Bach on the mandolin.
While musicianship is certainly present on their recorded material, the talent of each member of the five-piece band is fully realized during their live shows, which are more like jam sessions. With the encore, they ended up playing for almost two hours to a sold out crowd at the 9:30 Club.
It almost got to the point where I didn't believe they were real. They almost seemed like robots.
But there were just enough organic moments, with Thile almost violently convulsing in conjunction the fury of notes falling like raindrops from his mandolin, and — dare I say it — mistakes to quell that feeling.
And that's why I admire Punch Brothers. They walk the line between classical and bluegrass, technicality and raw emotion, and somehow make it work in a stew of moonshine sounds good regardless of whether or not you're looking at them through the bottom of a glass. Whereas Nickel Creek felt mechanical — they were almost too good at their instruments to the point where to me it lacked any real substance — Punch Brothers sounds fresh.
They're a simple act — no showy lights or distracting backdrops. Just five guys in suits wailing on their respective instruments. But they don't need anything else. They're so good at what they do that it sells itself. And that, I think, glorifies God. It's also worth seeing.
Brandon Hook is the Online Assistant at Sojourners.