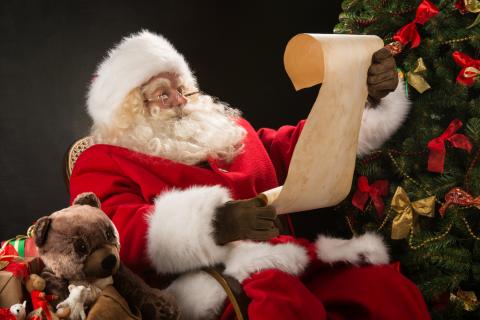 On behalf of Christians everywhere, this holiday season I'd like to extend an olive branch (some assembly required; batteries not included) to the non-Christian faith community.
More than 2,000 Christmases have come and gone, and it's time. It just is. It's time for one of you to step up and adopt-a-Santa, the Santa. Did I say "please"? Write him into the Ramadan tradition, or fold the jolly old elf into Hanukkah. Put some Kringle in your Karma. Let Rudolph's nose illuminate the path, the way. How hard can it be?
I'm serious — we're tired of him, because spiritually speaking, Santa Claus is a colossal pain in the wassail. Do you realize how difficult it is to reconcile the story of the birth of the Christ child — Emmanuel, God with us — with that of Santa?
Talk about your miracle stories! A bearded, elderly gentleman with no clear revenue stream somehow commands a fleet of pointy-headed elves who, with just a counterfeit GED and a few primitive tools create enough computerized dolls, iPods, video games, and electronic gadgetry to satisfy an entire planet's worth of good little girls and boys. And star of wonders, he somehow manages to deliver all of this booty in a single evening, to every child in every time zone with a team of flying reindeer.
The entire Jolly Old Saint Nick thing is not only wholly untenable, it's also a gigantic spiritual distraction — like being forced to hold your child's baptism or bat mitzvah ceremony at a Chuck E. Cheese. Try talking about sin and atonement, a virgin birth, the highest being born into the lowest circumstances when all your kids can think about is Saint Nick sliding down a chimney that you don't even have.
Santa Claus has been raining on our spiritual parade for far too long, and the Christian faith is tired of shouldering him. You make Kris Kringle an integral part of one of your high holy holidays; we'll give him some sort of generous severance package and send him your way.
No thanks, you say? We should sleep in the bed we made? You're right: Santa's our monster, a pudgy immortal born primarily out of the Western/European tradition. You'd have us dead to rights except for one thing: The man driving the reindeer sleigh is also driving the Christmas economic miracle. He's the poster boy behind the gluttonous end-of-the-year shopping spree that annually benefits all of us, regardless of faith or creed or level of religious conviction. This is the man that lines all of our pockets and fills our stockings.
It's time for you folks to do some of the rowing for a while. You take Santa Claus, and we'll move to the back of the boat and ponder the miracle of life, God, and the folly of humankind. We'll try some of that disciplined, introspective stuff you do so well, the spiritual exercises that don't require a credit card: fasting, praying, and whatnot (tweet me the list).
This is more than a fair offer. We'd still be holding the Easter Bunny, the freak-of-nature rabbit that lays chocolate eggs, a trick that somehow qualifies the mutant fur ball to be the mascot for the resurrection — the power of God over sin and death. We're not asking a lot.
Call soon, and in the meantime, happy holidays!
Craig Bowron is a physician and writer in Saint Paul, Minn.
Photo: Hasloo Group Production Studio