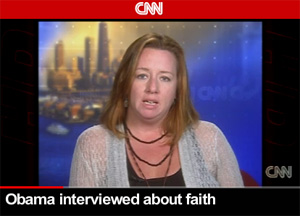 Sojourners magazine columnist Cathleen Falsani was interviewed on CNN last Sunday about her 2004 conversation with then-Senator Barack Obama. Falsani was a religion columnist in Chicago at the time and interviewed Obama about his faith.
Cathleen Falsani is the author of the new book The Dude Abides: The Gospel According to the Coen Brothers
. She blogs at The Dude Abides, and is a columnist for Sojourners magazine.