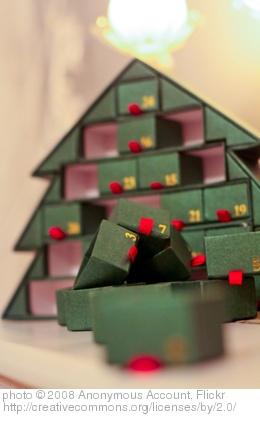 Advent—the four weeks leading up to Christmas—is an important time of waiting and preparation for Christians around the globe. Here are a few tips to help you make it through the season:
• Shop early and often. (And don't forget the pepper spray. Sadly, there may be moments when another shopper wrongly believes that, just because he's at the front of the line, you don't have the right to shove your way through to the sale table.)
• Make the advent wreath a centerpiece of the family's weekly meditation on the season. (And remember, don't light the purple candle. That's for Santa to light on Christmas Eve.)
• Since Advent is a time of waiting, try to schedule service appointments for the weeks before Christmas. Taking off a half-day of work for the cable guy or the plumber is much less annoying when there's a religious connection. (And if you work for a Christian organization, it doesn't come off vacation time.)
• Advent is a time of giving, so make sure you find out the identity of your office Secret Santa and then drop hints for gifts that you would most appreciate. (And remind them that thrift stores are not where Jesus would shop.)
• Since Advent is often a time of welcoming relatives to the home, make an effort to include them in the family Christmas traditions they missed out on last year, such as loading the dishwasher, making their own beds, and picking up after themselves.
• Decorating the outside of your house is a great way to show the neighbors how important Advent is to your family. And remember, it's not a competition to see whose house is the best on your block, although if your lights are not bright enough to interfere with the navigation of passing jetliners then, frankly, you're just not feeling the true Christmas spirit.
• An Advent Calendar is a great way to remember Christmas each day of the season, especially if there is chocolate behind every door. Which is why Advent at our house usually lasts about three days. (Suggestion: buy an Advent Calendar for every day of Advent, that way you don't run out of chocolate as quickly.)
• Years ago I gave my mother a late birthday present which she refused to accept until I said, "okay, then let's just call it a pre-Christmas gift." The fact that Hallmark never got a hold of this idea is one of the enduring blessings of the Advent season. Join with me in celebrating this.
• Our family has for years attended midnight mass on Christmas Eve at the Capuchin Monastery in Washington, D.C. We do this for three reasons: great singing, a short liturgy, and a long buffet. (We're talking shrimp the size of drumsticks!) We encourage you to find your own meaningful place of worship to celebrate Christmas, although not the Capuchins in D.C. because there's not enough shrimp to go around. Sorry.
Ed Spivey Jr. is art director and humor columnist for Sojourners magazine.