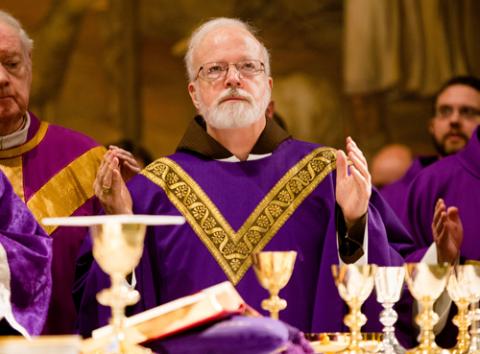 Roman Catholic cardinals on Monday met for the first of a series of closed-door meetings in the run-up to the conclave that will elect the successor to former Pope Benedict XVI.
But as cardinals filed into a Vatican conference room under the gaze of dozens of cameras, church officials said 12 voting prelates still haven't arrived in Rome, pushing back the possibility of an early start to the conclave.
The latecomers include three cardinals from Benedict's native Germany, as well cardinals from Europe, Asia and Africa.
The Vatican's chief spokesman, the Rev. Federico Lombardi, said 142 cardinals out of a total of 207 took part in the first so-called General Congregation on Monday morning.
Among them, 103 were under 80 and thus eligible to be among the 115 cardinals who will vote for the new pope in the Sistine Chapel.
There are 117 cardinals of voting age but two of them have announced they will not attend the conclave, including Scotland's Cardinal Keith O'Brien, who admitted Sunday to sexual conduct "below the standards expected of me as a priest."
Under church law, the conclave is scheduled to start between March 15 and March 20, but Benedict gave the College of Cardinals the option of moving up the date.
While the first General Congregation was mostly devoted to technicalities, the cardinals will have the chance in the coming days to discuss the problems facing the Catholic Church and who might be best suited to tackle them as pope.
As the fallout from the O'Brien scandal continues, the clergy sexual abuse crisis will figure prominently among the challenges the cardinals will address.
"It will be an important issue that is certainly in the minds and hearts of many of us," Cardinal Francis George of Chicago said at a press conference after the Monday meeting.
During their first meetings, cardinals also decided to send a message to Benedict, who left the Vatican last Thursday for the papal retreat at Castel Gandolfo, and took oaths of secrecy on their proceedings.
In the coming days, cardinals will be called to decide the start date of the conclave, but they don't seem to be in a hurry.
George said that on Monday "someone quoted St. Thomas of Aquinas, who said you should be slow in deliberation and quick in decision making."
"I think that caught the sense of everyone there," he said, "that we need to take the time necessary."
Alessandro Speciale has been covering the Vatican since 2007 and started writing for Religion News Service in 2011. Born in Rome, he studied literature at the Scuola Normale Superiore in Pisa, Italy, and journalism at City University, London. He has appeared as an expert on Vatican affairs on CNN, BBC World and Al Jazeera English. Via RNS.