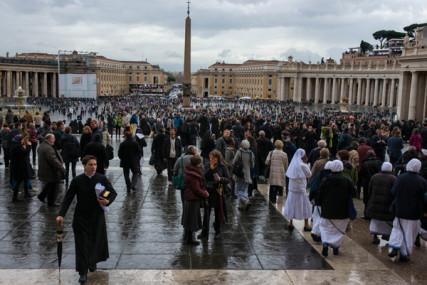 VATICAN CITY — Black smoke from the chimney atop the Sistine Chapel signaled that the first day of the conclave ended without the election of a new pope.
Even if the first-round outcome was largely expected, thousands of people on Tuesday braved the inclement Roman weather to wait for the result of the vote. They slowly filled up St. Peter's Square as the evening progressed, with their eyes fixed on the small chimney.
Cries of disappointment erupted from the crowd when the black smoke appeared instead of the white smoke that would herald a successful election.
Analysts say the first vote will allow cardinals to evaluate the candidates' strengths and potential following before the first full day of voting on Wednesday, when up to four ballots are expected. A two-thirds majority of 77 out of 115 cardinal-electors is needed for a new pope to be elected.
The wait was briefly disrupted by some activists of the Femen women's rights group. The topless women were quickly removed from St. Peter's Square by Italian police.
On Tuesday, cardinals voted only once to find a successor to Pope Benedict XVI, at the end of a series of solemn ceremonies that marked the beginning of the closed-door conclave.
Alessandro Speciale writes for Religion News Service. Via RNS.