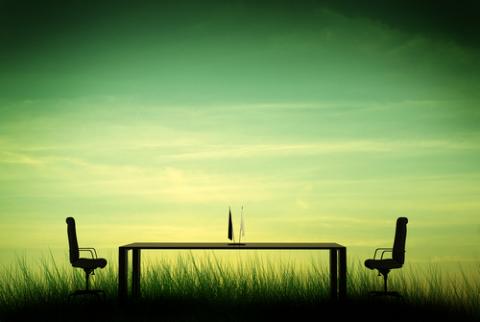 Delegates from around the world are meeting in Doha, Qatar this month to discuss United Nations' climate policy. In the past, these meetings were a source of hope for the environmental movement, as governments came together and committed to reducing emissions to collectively try to halt climate change.
Unfortunately, that is no longer the case.
Remember the Kyoto Protocol? Even though the reductions it mandated were nowhere near what's required for us to reverse the trend we've started, we haven't even come close to achieving those reductions. Oh yeah, and the United States didn't even sign it.
The Protocol is expiring this year, and the U.N. Framework Commission on Climate Change (the body that created the Protocol — stick with me here) is trying in Doha to extend it for a couple years until they can reach an agreement on how to move forward.
So what's holding the discussions back?
Countries like India and China produce a lot of emissions, but as developing countries, aren't required to reduce them. In their mind, the fact that countries like the U.S. got to the standard of living we have through "dirty" methods gives them the right to do the same.
The reason the United States didn't sign the Kyoto Protocol relates to how it assigns responsibility to reduce emissions. For negotiators on the U.S. side, it's not right for us to make changes to our economy if we're not even releasing the most emissions. That's why President Obama tried to create the Copenhagen Accord to replace the Kyoto Protocol: every country can "pledge" to reduce whatever it wants, but there's no overall requirement for emissions reduction that it has to sum to.
That gets you into a whole other underlying debate: how do you determine who's releasing "a lot" of carbon, anyway? Should we rank it by country, or per capita?
Imagine that at your high school, there was a problem with clubs throwing spit balls at the mascot during basketball games. The 50 members of the glee club throw 2 spit balls each (100 total), while each of the math club's 2 members throw 20 (40 total). Which club should be disciplined first? You can see it as a question of 100 spitballs vs. 40 spitballs, or a question of 2 spit balls per person vs. 20 spit balls per person. Obviously, the glee club and the math club would have a pretty strong opinion as to which perspective you choose.
Those are just a couple of the questions holding up negotiations. Imagine all the other considerations. If you were an oil-producing country, you might want some payments to make up for the fact that the rest of the world was outlawing the basis of your economy. If your country didn't have a lot of emissions to reduce, you might want a credit for the forests you have that were removing carbon from the atmosphere and your efforts to protect and expand them. If you are a small island nation, you might want money to buy new land once yours sank due to sea level rise. A lot of people point to countries like South Africa, Brazil, and China, claiming they are too "developed" to be considered "developing" nations.
Now consider the fact that the delegates are sitting around and trying to advocate for these various positions through a document that looks something like this:
Developed countries as a group should reduce their greenhouse gas emissions [in the order of 30 [by][at least][40][45][50] percent from 1990 levels by 2020]. In accordance with the findings of the IPCC AR4, developed countries as a group should reduce their GHG emissions by 25.40 per cent below 1990 levels by 2020. They should reduce their aggregated emission by] [and by] [at least] [80-] [more than] [95] per cent from 1990 levels by 2050 [as part of a global emissions reduction of at least 50 per cent by 2050 compared to 1990 levels], [to be updated based on the 2013.2015 review of the global goal].

That's an actual draft negotiating text from last year's climate meeting in Durban. The bracketed sections are the different options that delegates are discussing and debating, trying to reach consensus.
Suffice it to say, many people look at the U.N. climate discussions as a failure. They don't have to be, though.
There are some signs that the United States might be more willing to lead on climate change, and the more we press our political leaders to do so through our local actions, the more they will be willing to press the rest of the world. Let's keep the heat on them and get this done.
Janelle Tupper is Campaigns Assistant for Sojourners.
Photo: Alexey Kashin / Shutterstock