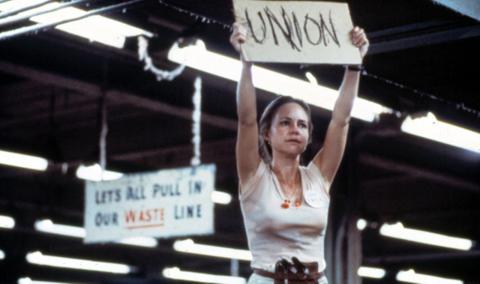 I make no secret of the fact that there is a big soft spot in my heart for the tremendous gains of the labor movement in American history and a big sad spot for how certain unions — such as those representing meatpackers and agricultural workers — have been all but decimated.
Since many — probably most — of my ancestors made their way in the world and in this country as laboring folks, I am proud to acknowledge that the privileges I have had I owe to their hard work and struggle to create an American middle class.
(Not incidentally, my grandparents met and fell in love at a Catholic Worker meeting, where my grandfather had interned as a seminary student. With Dorothy Day, natch.)
So in no particular order, here are some of my favorite pro-labor, pro-union resources for really celebrating Labor Day.

Please add your own favorites in the comments!
Movies:
The Pajama Game(1957)
I may or may not have appeared in a stage production of this in 9th grade...
Norma Rae (1979)
Vintage Sally Field! Click the title to read how the real Norma Rae died of cancer and how her insurer delayed treatment. Which reminds me of this post.
Triangle Fire (PBS Documentary, 2011)
Music:
"Talking Union" by Pete Seeger
If I Had a Hammer: Songs of Hope and Struggle (Pete Seeger)
"Which Side Are You On?" (Ani DiFranco revision of the Pete Seeger Song)
Joan Baez singing "Joe Hill" at Woodstock
Smithsonian Folkways' "'Talking Union' and Other Union Songs"
Books:
I can't resist pointing out that Katherine Paterson (the author of the first two novels) is a former Presbyterian (USA) mission co-worker — what I currently am. I'm afraid I idolize her writing a bit. What a storyteller!
And four of the five are young adult (YA) novels. I can't help it — that's a favorite category of mine.
Bread and Roses, Too by Katherine Paterson
Bud, Not Buddy by Christopher Paul Curtis
The Jungle by Upton Sinclair (It's less about nasty meat than textbooks might lead you to believe!)
Rachel Marie Stone is a writer, editor, and speaker living near Philadelphia. You can find her on Twitter @Rachel_M_Stone.