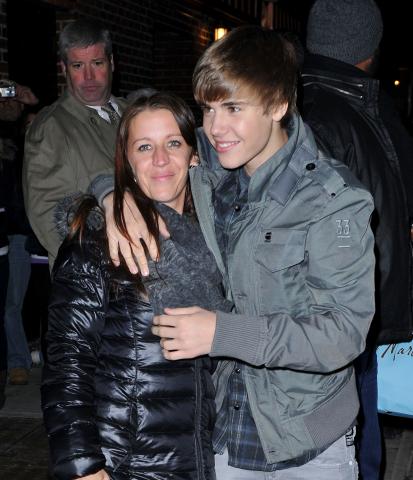 What can I give back to God for the blessings he's poured out on me? I'll lift high the cup of salvation—a toast to God! I'll pray in the name of God; I'll complete what I promised God I'd do, and I'll do it together with his people.
~ Psalm 116:12 (The Message)
++++++++++++++++++++++++
You might not be a fan of Justin Bieber, but I'm willing to bet there's at least one young person in your life who is.
And while it may be hard for us adults to believe, young Bieber, the Canadian pop superstar, has brought the Gospel -- of social justice and otherwise -- to millions of fans (who call themselves "Beliebers") around the globe.
Today -- just in time for Mother's Day -- Bieber, 18, released the new single "Turn to You" from his forthcoming album BELIEVE. It's a love song -- a tribute to his mother, Pattie Mallette, who gave birth to her only child when she was just 17 years old. Both Bieber and Mallette are devoted Christians (evangelicals, in fact) and neither is shy about speaking about their faith publicly.
"God is the one that is orchestrating all of this and giving [Justin] such incredible favor," Mallette said in an interview with the Hollywood Prayer Network last year. "And he knows that it's for a purpose and a plan. And he's not sure what all that entails yet and how he fits into that, but he knows that it's by God's hand." Later this year, Mallette will release Nowhere But Up, a memoir (presumably chronicling her journey of faith and motherhood of the most popular teenager on the planet) with Revell Books, a division of the Christian publishing group Baker.
Mother and son are deeply committed to giving back (Bieber often uses the phrase "paying it forward" when talking about his charity and justice work with fans) to wit Bieber announced that proceeds from the new song, "Turn To You," will go to a shelter for homeless women in his native Ontario. Publicly Bieber has been involved in a copious amount of charitable work, including raising funds for water projects in the developing world, disaster relief, and building schools in for the poorest of the poor in Africa, Asia and South America.
Bieber tweeted to his 20 million+ Twitter followers: "Happy Mother's Day Weekend. this is for my mom and all those moms out there. here is #TurnToYOu"
He added, "#TurnToYou is out in some countries. Out later tonight in US and Canada. Help moms in need. Give them strength. thank u mom."
This is not the first time Bieber has chosen to donate proceeds from his music to charity. A portion of the proceeds from his 2010 album, My Worlds Acoustic, which included the song "Pray," went to the Children's Miracle Network.
"I am in the position to give back thanks to my fans and God," Bieber said at the time of the album's release. "I wrote 'Pray' thinking I wanted to help others and I feel like I have a responsibility to do so. What is the point of doing all this if you can't make a difference in others' lives? This album is a gift to my fans and the money raised from it allows us all to help out."
"Turn to You" will be available for download via iTunes in the US and Canada later today. BELIEVE is scheduled to drop on June 19.
"Turn to You" by Justin Bieber
You worked two jobs
To keep a roof up over our heads
You chose life for me
No you never gave up
I admire you for the strength you instilled in me

You were so young
You were just my age when you had me
Mom, you were so brave
There was nothing that would stop or get in our way
And I know you will always be there for me

So when you're lost and you're tired
When you're broken in two
Let my love take you higher
'Cause I still turn to you

It was '94
The year that everything started to change
From before, You had to be a woman
You were forced to change your ways
To change your ways

Then you found the Lord
You gave your life to Him
And you could not ignore
The love he had for you
And I wanted more of your heart

So when you're lost and you're tired
When you're broken in two
Let my love take you higher
'Cause I still turn to you

I don't know what I'd if you left me
So please don't go away
Everything that you are is who I am
Who I am today

So when you're lost and you're tired
When you're broken in two
Let my love take you higher
'Cause I still turn to you

'Cause I, I turn to you
Cathleen Falsani is Web Editor and Director of New Media for Sojourners. She is the author of four nonfiction books, including her latest, BELIEBER!: Fame, Faith and the Heart of Justin Bieber. Follow Cathleen on Twitter @GodGrrl.