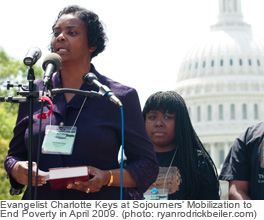 Charlotte Keys, of Jesus People Against Pollution in Columbia, Mississippi, who was interviewed in our March issue, updated us last week when she was in Washington, D.C., to meet with policymakers in the Environmental Protection Agency, Congress, and others about environmental injustice in rural Mississippi communities. "People should not still be living in FEMA formaldehyde trailers -- nor should those trailers be sold to them with the mass amount of contamination that has been proven to be in those trailers," she told Sojourners.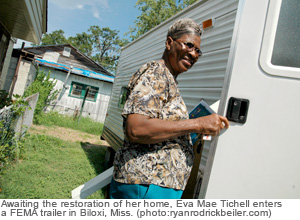 "The purpose of the Washington, D.C., meeting was for [advocates'] attorney, Ivan Burghard, and myself to bring to light the key issues that are impacting communities' quality of living: issues of injustice -- environmental health, housing, education, economic. I feel that the meetings were helpful and we're looking forward to collaborating with them on how to effect the changes needed to deal with the communities' outstanding housing and environmental health care issues. Some of the issues are related to the before-Katrina/Rita damage and [some to] after-Katrina/Rita problems and injustices. Mississippi rural communities have not been given the full attention of the government in relation to equal distribution of resources and assistance to correct these problems."
After a busy week of meetings and preaching in Washington, Evangelist Keys was flying home to a family funeral. "I feel that the cancer death of my cousin Juanita Maxwell -- and there are many more classmates of mine with cancer in our community -- is related to the environmental degradation of the community," she said.
Elizabeth Palmberg is an assistant editor of Sojourners.