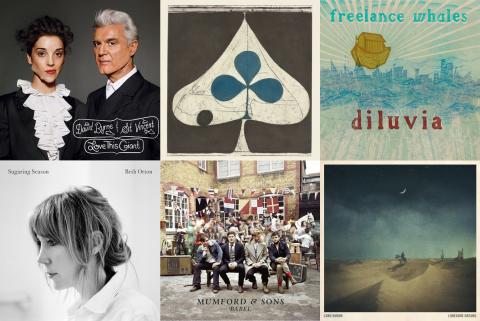 Just in case you missed it (ICYMI), here's a roundup of new music that should be rocking your Spotify playlists.
Beth Orton: Sugaring Season
In her first release since 2006's Comfort of Strangers, British singer-songwriter Beth Orton created a beautiful record leaning more toward the folk of her signature "folktronica" sound. Orton opts for stripped down, simplified arrangements, drawing mostly on acoustic guitars, strings, and her soft voice to propel each song. The music moves from the melancholy rich guitar sound of Nick Drake incorporating Simon and Garfunkel melodies to more upbeat, lighthearted tunes. The album, recorded in Portland, Ore., is a perfect companion for a drive through countryside of the Pacific Northwest.
Highlights: "Magpie," "Call me the Breeze," "Mystery"
Lord Huron: Lonesome Dreams
The brainchild of singer-songwriter Ben Schneider, the music on Lord Huron's first LP Lonesome Dreams is surprisingly reflective of its album art. (A designer friend of mine once advised me to take any direction I wanted when designing an album cover because they "usually don't have to make any sense.") On the grainy cover is a painting of a lone horse rider under the night sky of the desert. Much like the openness of the desert, the songs are expansive and feel like they have depth. The ethereal expanses laden with reverb, sitar, and moon chimes lend themselves well to the picture of the desert sky. Lonesome Dreams feels both antique and refreshingly new. Its themes are large — love, loneliness, and that itch to explore— but it doesn't at all feel preachy or overzealous.
Highlights: "Ends of the Earth," "Time to Run," "She Lit a Fire"
Mumford & Sons: Babel
Has popularity and success translated into a decent sophomore album for the British folk band? Absolutely. One way to avoid the perilous "sophomore slump" that plagues many musicians and bands these days is to stick to your guns. And that's exactly what English quartet Mumford & Sons did with their second album Babel.
"The idea was always, 'If it ain't broke, why fix it?'" producer Markus Dravs told Rolling Stone.
And that's almost exactly what audiences get on Babel. It's as if Mumford took all the good things from their first record, Sigh No More, and channeled them into Babel.
Who blames 'em? Their foot-stomping, banjo-plucking signature folk-rock sound has sent them to the far corners of the earth and back. It also shot Sigh No More up to platinum status, selling five million copies and nominating the band for two Grammys.
Highlights: "I Will Wait," "Lovers' Eyes," "The Boxer" (Bonus Track)
Freelance Whales: Diluvia
It comes as no surprise nearly halfway through the album on "Locked Out" when frontman Judah Dadone chants what seems to have fueled Diluvia: "We have the rations to go anywhere."
Freelance Whales didn't just go to a new frontier — they went for the final frontier. The album was heavily influenced by sci-fi TV shows, and the quintet from Queens tried to create something that sounds like outer space while still maintaining their signature indie-rock sound.
The album's title, not coincidentally, echoes a similar sentiment and may even be a metaphor for the band itself. "Diluvia" happens when a glacier shifts or moves as a result of a great flood. The floodgates of possibility opened up after Weathervanes, and Freelance Whales felt free to explore. Such exploration is inherently risky.
"The biggest risk we took is that it doesn't sound like our first record," Criss said. "We use a lot of the same instruments, but we played a lot more with sonic expansiveness. I feel like it's a good progression and accompaniment to Weathervanes. However, it's always a risk. There are always going to be people who wish bands just made the same album every two years."
Highlights: "Locked Out," "Dig Into Waves," "DNA Bank"
Grizzly Bear: Shields
Grizzly Bear continues to progress as a band, getting better and better with each release, and Shields is no exception. Grizzly Bear meanders in and out of unpredictable, intricate sound collages rich with hooks that counter the band's experimental tendencies.
Daniel Rossen's guitar playing is genius. He continues to manipulate the ubiquitous instrument in a fresh way, claiming that it stems from his unique approach to the guitar. (link PITCHFORK INTERVIEW).
As per usual, the rest of the band members carry their weight as well. Grizzly Bear is a democracy: they share the songwriting, producing, and instrumental loads. Time spent apart since 2009's breakthrough Veckatimest could — and almost did (link pitchfork interview)— put a rift in the bands cohesiveness, but after scratching an entire set of songs they've settled on a beautiful, wholesome record. Shields has my vote.
Highlights: "Sleeping Ute," "Speak in Rounds," "Yet Again"
David Byrne & St. Vincent: Love This Giant
Just like the out-of-left-field pairing of these two stars, Love This Giant can seem a bit eccentric. However, according to Annie Clark (also known as St. Vincent), the collaboration with former Talking Heads frontman David Byrne was organic, with the two splitting songwriting and vocal duties (FIND LINK). And, surprisingly, Clark made the call to add the larger horn and strings sections to the songs. Byrne enacts his signature estranged social commentary, especially on "I Should Watch TV," where he tells us that he once thought watching TV would help him "understand the land he lives in" and "set him free." Love This Giant is definitely worth a listen.
Highlights: "Who," "The Forest Awakes," "I Should Watch TV"
Brandon Hook is Online Assistant for Sojourners.