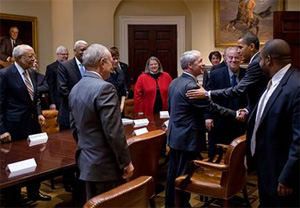 As some of you may know, I served on President Obama's Advisory Council on Faith-based and Neighborhood Partnerships for year one of his administration. Our one-year term is almost up, and yesterday we issued our final report to key members of the administration. The council joined together across religious, political, and ideological lines and achieved a remarkable amount of consensus in six different areas on how the federal government can form better partnerships with faith-based and other nonprofit organizations. Our task force reports ranged from Economic Recovery and Domestic Poverty, to Environment and Climate Change, to Fatherhood and Healthy Families, to Global Poverty and Development, to Inter-religious Cooperation, to Reform of the Office of Faith-Based and Neighborhood Partnerships.
On Tuesday, the Council presented our report to a group of key administration officials, including Secretary of Health and Human Services Kathleen Sebelius, USAID Administrator Dr. Raj Shah, chief of staff to the National Security Council Denis McDonough, EPA Administrator Lisa Jackson, and White House Domestic Policy Chief Melody Barnes. The Council also had a warm gathering with the president (an early photo is below).
You can find our full report here -- it's a long but good read, consisting of pragmatic steps for the federal government to take to better partner with faith-based and neighborhood organizations. Some of them were quite challenging: that serious poverty reduction must be a principle of partnership, not just poverty alleviation, that a whole new federal measure for poverty was urgently needed, that promoting fatherhood should be a central pillar of this administration, that shifting development dollars away from the military and corporate contractors to independent non-profit organizations was a crucial move, that political "vetting" of our partners on the ground in many places was counterproductive, that the active engagement of the NGO sector in designing international adaptation strategies for climate change was vital, that multi-religious partnerships were critical for equipping all U.S. agencies involved in international affairs, and that respecting the identity and mission of faith-based organizations was consistent with making sure that all religious partnerships with the government have constitutional integrity. And these were just a few of the 60 recommendations.
There were consistent promises from the administration leaders that these recommendations will be very impactful and that some of the ideas are already being examined for how they can be best implemented. One said the report would be a "work plan" for her department. Of course, in Washington, such promises always need to be tested. Joshua Dubois, the director of the Office on Faith-Based and Neighborhood Partnerships, and Mara Vanderslice, the deputy director who oversaw the process and production of the task forces and report, both promised that the monitoring and pushing for the implementation of the recommendations would now be central to their work.
This Council is a group of 25 individuals serving one-year terms who provide advice on how the federal government should partner with community and faith-based groups. We worked to identify areas in which innovative partnerships between government and faith-based and community organizations will yield results in serving individuals, families, and communities most in need. The Council was very diverse in both religious and non-religious affiliation, from Evangelical, to Mainline Protestant, to Catholic, to Black Church, to Jewish, Muslim, and Hindu, to secular nonprofits. And not only was the discourse always civil and respectful, even when we disagreed; it soon became clear that we really liked each other and always enjoyed being together! Political nonpartisanship was an assumption from the beginning and this Presidential Council may be one of the very few places in this tumultuous and cantankerous year in Washington that a genuinely bipartisan, moral, and civil tone actually worked.
There has never before been a Presidential Council like this that actively engaged faith and nonprofit leaders in vigorous conversation for a year on necessary changes in national policy. Working out how that would work hasn't always been easy, but the trail has now been blazed and a whole new set of Council members will soon be appointed to take on a whole new set of issues. It was a good experiment and seems to be one that has worked well -- despite the habitual carping of a handful of hard-line secular fundamentalists who really don't think faith communities should have anything to do with public life. The Council and its recommendations showed that the faith community is a deep and powerful resource in the shaping of good domestic and international policy and that such contributions can be made successfully while still respecting and deeply valuing the nation's religious diversity and pluralism, and upholding the Constitution. A committed group of national religious and secular nonprofit leaders showed this year how that could be done and it worked. And we had a lot of fun doing it.

Jim Wallis is the author of Rediscovering Values: On Wall Street, Main Street, and Your Street -- A Moral Compass for the New Economy, CEO of Sojourners and blogs at www.godspolitics.com.
+Click here to take action for comprehensive immigration reform