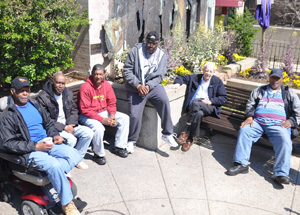 A quilt hangs in the dining and fellowship hall of Christ House, a medical facility for homeless women and men in Washington, D.C. The patches in the quilt tell the story of its creator, a former resident at Christ House
The first frame shows an individual trapped in the hopeless world of drug and substance abuse. Frame two shows the individual falling to rock bottom. Three: the individual in prison. Four: the individual listening to the teachings of Christ. Five: the individual repenting for past choices. Six: the individual tossing away the drugs and bottles. And the last frame shows the individual, who was alone, now rejoicing in community.
In its 26-year history, Christ House has had more than 7,000 admissions and the "quilt story" has been made a reality in countless lives.
And at Sojourners, we have one more reason to be thankful for this amazing community.
Last week, as we watched thousands of people across the nation join the Hunger Fast for a Moral Budget movement, we were humbled and honored to learn that the Christ House church community had collected $1,000 to donate to the movement. The community members, some of whom had been involved with Christ House since its beginnings in the mid-1980s, know the harsh reality and consequences of federal budget cuts.
In a special prayer service held yesterday at Christ House, Sojourners staff members joined with the Christ House community to lift up the decisions that lawmakers will make about our nation's budget and to celebrate the work of each other's communities. The Sojourners staff also collected some needed supplies as a "thank you" to those at Christ House who gave so generously.
"I was overwhelmed by the gift and by whence it came," said Jim Wallis, who was attending the prayer service on the 16th day of his fast. Jim thanked "personal prayer warrior" Gordon Cosby, the visionary founder of the Church of the Savior that sprouted the ministry of Christ House. He also thanked Janelle Goetcheus, the medical director and co-founder of Christ House, who has been keeping an eye on Jim's physical health during the fast.
"I just wanted to come today to be here and to feel the blessing of this place," Jim told the diverse group that had gathered to pray -- a group of individuals dressed in suits and ties, as well as sweat pants and worn jackets; a group with young individuals wearing backpacks, and older individuals with walkers.
The prayers that were lifted up were genuine and sincere.
In his strong, raspy, 93-year-old voice, Gordon Cosby prayed, "God, fall on your church now as you fell on the church at Pentecost