God Girl's New Favorite Thing for Oct. 25, 2012: Two Irish boys cover Rihanna's "We Found Love (in a Hopeless Place)"
Now who are these talented young lads?
UPDATE 10/26/12: Found them! Scroll down to hear more about the young singer, Robert Scanlon, from his dad, who emailed Cathleen overnight.
After a bit of searching, it would appear that the boys are Rob Scanlon (the wee fellow singing with his head down most of the time) and Harrison Dobo (who goes by the stage name "HarriBoo") the 15-year-old who is playing the guitar and rapping (his own rap, btw.)
According to Harrison's Facebook page, he was born in Tottenham, England in 1996 and is of Congolese/Zimbabwen heritage. He currently resides in the Republic of Ireland.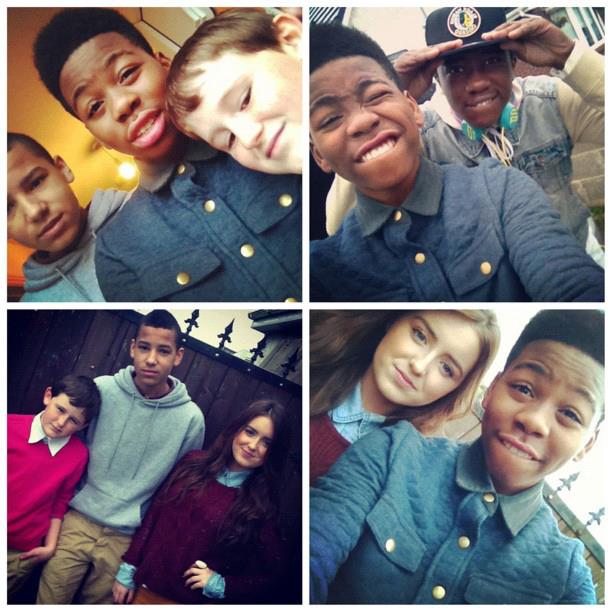 I'm still searching for more information about young Mr. Scanlon, whose voice is just beautiful. (I have a feeling I'm not the only journalist and/or record producer who might be trying to track down Rob's story.) It looks like he and Harrison might be part of something called FreshEra, "a group of five musicians" based in Celbridge, Co. Kildare, Ireland (about 20 km west of Dublin, if Google maps isn't leading me astray), according to its brand-new (yesterday) Facebook page.
Seeing these two play together and sing together -- a white boy and a black boy in Ireland, my ancestral homeland where religious and cultural divisions have disturbed the peace for too many generations past -- gives me so much joy.
Love in a hopeless place. Yes, indeed.
Cathleen Falsani is Web Editor and Director of New Media for Sojourners. Follow Cathleen on Twitter @GodGrrl.
P.S. And check back here for updates to the boys' story. I've just found an email address for their manager.
UPDATE, 6 a.m. PST Friday, Oct. 26: I received an email overnight from the young singer, Rob Scanlon's, father, Darren, telling me a bit more about the boys. He says:
Thank you for your kind email. It has been a crazy few days. I am Robert's dad -- the 11-year-old singer. I am so proud of them.

Harrison is 16 and is part of a band called Fresh Era who are together a year or so.

They are Harrison - Rap

Ashlee ( my daughter ) Lead Vocals

Darryl - Keyboard and Guitar

Cian - Guitar

Harrison was sitting outside his house [last] Saturday last and my son was walking past with his friends. Harrison asked him to sing a song with him [because] he loves Robert's singing. The video got put up on Facebook and Youtube and now is spreading like crazy. The band now five members :-) and were on Radio yesterday and have a couple of other apperances over the next few days

Thanks agin for showing an interest.

Kindest Regards,

Darren Scanlon
Here's a video of Fresh Era doing their version of Rihanna's "We Found Love" with the full band and Ashlee Scanlon on lead vocals:
Photo credit: From the FreshEra Facebook page, Harrison (with the blue collared shirt) and Robert appear together in the upper left photo, and wee Robert (in the red sweater) in the bottom left. Harrison is also in the two photos on the right with other members of Fresh Era.